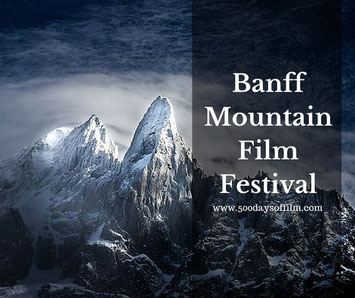 500 Days Of Film Reviews The Banff Mountain Film Festival's UK Tour And Finds Seven Stunning Films And A Wonderful Venue
The Banff Mountain Film and Book Festival is held in Banff, Canada every November.
This nine-day event attracts writers, photographers, filmmakers and adventurers and celebrates the very best in mountain culture.
Over 370 films were entered into last year's festival. The most outstanding of those films were then included in the festival's world tour. The tour visits 40 countries where the films will be seen by more than 500,000 people.
The 2016 UK and Ireland leg of the tour visits approximately 55 different locations from Edinburgh to Truro, London to Leeds. (Click here for more details)
Is It Any Good?
It was only when we arrived at Islington's amazing Union Chapel that I realised I might have absolutely nothing in common with the majority of the Banff Mountain Film Festival audience.
For a start, I'm petrified of heights. I also suffer when I'm cold and the idea of mountain climbing, white water rafting, extreme skiing or kayaking down Niagara Falls terrifies me.  
However, as I looked around, I saw a crowd of normal looking people - not a crampon in sight (whatever they are). And, anyway, I felt pretty confident that I would, you know, blend in. After all, I had strategically chosen to wear my North Face jacket. No one need know that I usually wear this to walk my labrador... clever, huh!
In addition, I knew that I would have at least one thing in common with this cinema audience - a love of film.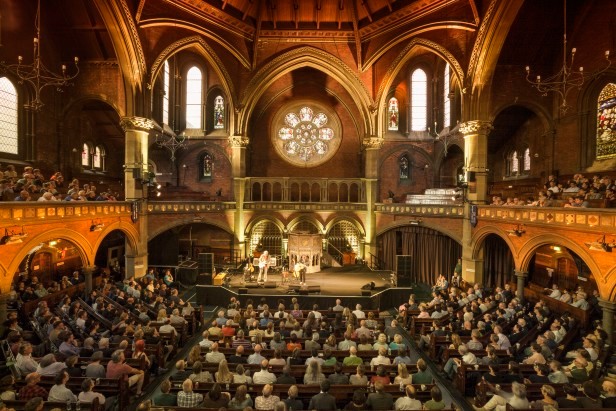 Panic over, I settled into my seat. We had arrived early and thus snagged a brilliant vantage point. There we sat, trying not to look smug as later entrants arrived and looked longingly at our pew position. (Folks, you gotta get there early if a venue hasn't assigned seats!)
Our promptness, also gave me time to appreciate the venue. Union Chapel is stunning. The main auditorium is huge and octagonal in shape. All the seating is the original wooden pews (note: a cushion may come in handy for longer events), which are gently raked on the ground floor.
We sat in the balcony (the balcony has galleried seating on five sides) and had an amazing view of the screen, which was suspended just below one of the Chapel's beautiful stained glass windows.  
The venue opens an hour before the films start and offers a range of food and drink. You can't take alcohol into the main auditorium so we chose a mug of tea. (However, we did visit the bar during the interval!)
The Banff Mountain Film Festival tour shows two film programmes - a red programme and a blue programme, which we were seeing. 
Each film was introduced by a lovely compère. She gave us some background information before each movie and encouraged us to seek our own mountain adventures (hmm.. does the zip wire at Center Parcs count?). 
The evening featured a total of seven short films over three hours (including the interval). 
The Films
55 Hours In Mexico
Four friends decide to fly to Veracruz, rent a (totally inappropriate) car, climb the third-highest peak in North America, and ski down it - all over the course of one weekend. What could possibly go wrong?
Filmmakers: J Schusler, K Thompson, T Woodson
Running Time: 9 minutes
Verdict: This film is nine minutes of crazy fun as the four friends attempt a remarkable feat with little to no preparation or proper planning. However, on the plus side, there are also some stunning scenes of snowy mountain gorgeousness.
Operation Moffat
This film explores the remarkable life of Britain's first female mountain guide, Gwen Moffat. Writer Claire Carter and filmmaker Jen Randall swim and climb through Gwen's landscapes in an attempt to understand her preference for mountains over humans.
Filmmakers: J Randall, C Carter, A Messenger
Running Time: 20 minutes
Verdict: This movie features some poignant scenes as a 90-year old Gwen remembers her mountain climbing life. Apart from that, much of the focus is on Carter and her desire for adventure and spontaneity. However, I found myself more interested in Randall. She captures some incredible footage - often while dangling from a cliff! 
Builder
A movie about building trails and tracks for mountain bikes, Builder starts by filming two incredibly talented young boys. It then features some more experienced riders and the amazing trails that they have created.
Filmmakers: J Coffey, S Secco
Running Time: 9 minutes
Verdict: As a mother, I found the first half of this film rather worrisome. These boys just look so young (they are 12) and we see them racing down steep, rocky hills and performing breathtaking aerobatic maneuvers. I relaxed somewhat when the older bikers appeared - but some of their scenes were just as heart-stopping.
Chasing Niagra
One day, pro kayaker, Rafa Ortiz, decided to paddle over Niagara Falls - as you do. Chasing Niagara explores the planning and preparation necessary to undertake such a risky challenge and the friendships that are forged in extreme situations.
Filmmakers: Red Bull Media, R Sturges
Running Time: 30 minutes
Verdict: A tense film about a frankly terrifying plan, Chasing Niagara features spectacular and unsettling Go Pro footage and stunning overhead shots (filmed from a helicopter). It also explores the lengths that some extreme sportsmen and women go to in order to fulfill a dream - and whether all risks are worth taking.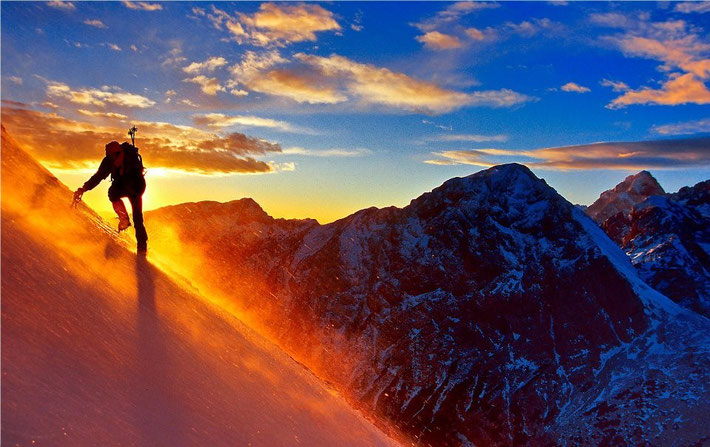 Eclipse
Photographer, Reuben Krabbe is determined to capture a photograph of a skier in front of a solar eclipse in Svalbard, Norway. However, on arrival in the artic, the weather is atrocious, polar bears roam around and Reuben's skiers just want to, well, ski. No pressure then. 
Filmmakers: A Bonello, Switchback Entertainment
Running Time: 30 minutes
Verdict: My favourite film of the entire Banff Mountain Film Festival, Eclipse tells a wonderful, dramatic story and features some truly stunning footage. I also loved the humour in this film - it easily passed the six laugh test. 
Important Places
Forest Woodward (you've got to be an outdoorsy type with that name now haven't you) takes his 77 year old father Doug on a Grand Canyon river trip in order to help him recapture the adventures of his past.
Filmmakers: Gnarly Bay, F Woodward
Running Time: 10 minutes
Verdict: An enjoyable, gorgeous-looking film that perhaps tries a little too hard to be deep and philosophical. However, Important Places does remind us that you are never too old for an adventure. (However, I would argue you can definitely be too scared and lazy.)
Showdown At Horseshoe Hell
24 hours of Horseshoe Hell is an event where elite climbers and novices join together to see how many times they can climb the steep sandstone cliff walls of Horseshoe Canyon Ranch, Jasper, Arkansas. This film follows climbers Nic Berry and Mason Earle as they try to beat famous climber Alex Honnold. 
Filmmakers: P Mortimer, J Lowell
Running Time: 20 minutes
Verdict: Showdown At Horseshoe Hell is pure fun and craziness - made all the more enjoyable by the personable Berry and Earle.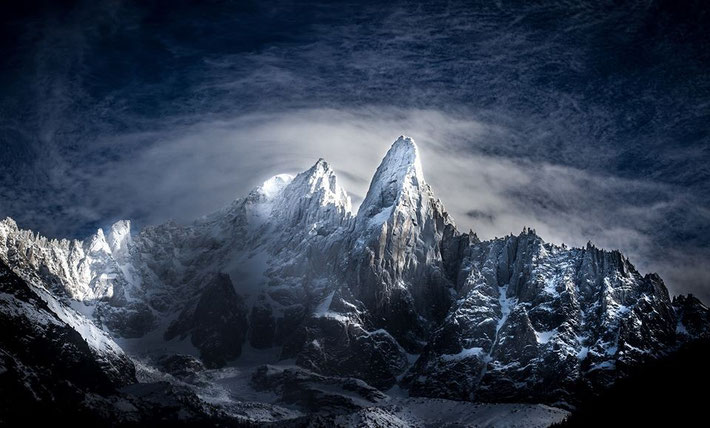 The Banff Mountain Film Festival Tour Experience
Each of the films that I watched at the Banff Mountain Film Festival was special in its own way.
However, all of these films are stunning examples of the power of cinematography (the light captured in each movie was superb), emotional film scores and editing.   
I thoroughly enjoyed the Banff Mountain Film Festival and would highly recommend it if you love mountains and adventures - or if, like me, you just love spectacular cinematic storytelling.