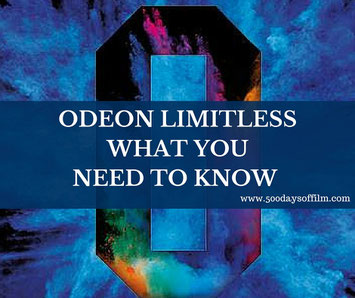 Odeon has just released its Limitless membership programme.
In exchange for a monthly payment of £17.99 (£19.99 for Central London cinemas) you can watch as many films as you like at participating Odeon cinemas.
Limitless will certainly save me money over the course of the year. With a full price adult cinema ticket costing between £10-12, I would only need to visit the cinema twice a month for this membership to make financial sense.
So,  I am excited to report that I am now a proud member of Odeon's Limitless club. 
To save even more money, I decided to pay the 12 month minimum membership upfront - a cost of £205. This will save me just under £12 per year. I don't know how you do maths, but to me that's some free Ben & Jerry's right there!  
Limitless - All You Need To Know
Are you tempted to join Odeon Limitless?
Here is the information that you need to make your decision!
To join Limitless you must be a permanent UK resident and over the age of 16. 
You will need a passport-style photograph ready to upload when you apply. This photograph will then form part of your Limitless membership card. 
When you join, you are committing to a minimum 12 month membership period.
Limitless entitles you to book a standard ticket for a standard format public 2D film screening with a standard seat type in a standard auditorium - you may need to pay to upgrade if you want a Premier seat or for a 3D screening.
If you choose the Limitless without Central London package, you will not be able to book tickets at the Odeon cinemas in Leicester Square, Leicester Square Studios, Panton Street, Covent Garden, Tottenham Court Road, Marble Arch, Whiteleys and Camden.
You can book tickets using Limitless in an Odeon cinema or online. You cannot book tickets with your Limitless membership via Odeon's apps, the mobile version of its website, or via Odeon ticket machines. 
You can book tickets for as many screenings as you want on the day you are booking. Members can also book up to two tickets for screenings on subsequent days. However, your bookings cannot overlap.

You will not be able to use other offers, promotions or cards when using your Limitless membership to book tickets. For example, when using your Limitless membership to book tickets, you cannot use your Odeon Premiere Club membership to earn or spend points in the same transaction.
You cannot use your card to book tickets for anyone else. 
The BFI IMAX and The Lounge at Whiteleys are not included in your membership (visit Odeon's website for a list of all of the cinemas included in your Limitless membership). In addition, Odeon Event Cinema screenings (music, theatre, sport etc.) and special or private screenings (such as film festivals and premieres) are not included in the Limitless Membership. 
You can pay for your membership via credit or debit card. You can also set up a direct debit - but do make sure that you can maintain that direct debit. If you fail to make a payment, Odeon will charge you a £9.99 administration fee. 
You can use your Limitless membership as soon as you have joined online. Odeon will provide you with a printable temporary membership card and number to use while you wait for the permanent card to arrive in the post. You will need to bring this card with you when you visit the cinema.

If you join Limitless and then find that it is not working for you, you can cancel your membership at any time. If you cancel within 14 days you will be given a refund minus the days you have been a member. If you cancel after the 12 month minimum period, and you are paying monthly, you will need to contact Odeon's Limitless customer service number (see below) at least 30 days before you want your membership to end. If you paid the full amount at the start, you will not need to do anything as your membership will automatically end after the year.

It is not as easy to cancel within the minimum membership period. Odeon suggests contacting its customer service department to discuss your cancellation.

If you need any further information about Odeon Limitless, you could always give its customer service team a call on 0333 004 4411 or emailing via the contact page at Odeon.co.uk. 
Are You Tempted To Join Odeon Limitless?
What do you think of Odeon's new Limitless membership?
Will you be joining?
Do let me know via the comments section below!