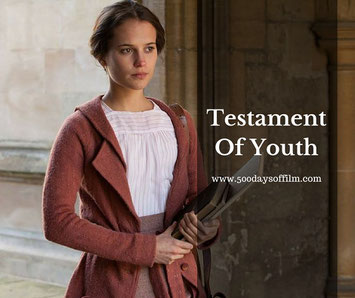 500 Days Of Film Reviews Testament Of Youth And Finds A True Story Of Love, War And Remembrance
Vera Brittain (Alicia Vikander) is a feisty, independent young woman who has to overcome her family's prejudices in order to secure a scholarship to Oxford. 
She is thrilled by the new literary life that awaits her at university - an experience she hopes to share with new love Roland (Kit Harington).
However, all her dreams are shattered following the start of World War One. First Roland and then her brother, Edward, sign up.
Vera soon realises that she cannot continue her education while her friends and loved ones fight for their country. As a result, she volunteers as a nurse. Nothing could prepare her for the tragedies to follow.
After the end of the war, Vera decided to publish her memoir. This was her way of both honouring those she lost and also showing the horrific futility of war.
Vera's testimony would become a bestseller - one of the few books to detail a woman's experience of World War One.
Is It Any Good?
Testament Of Youth is an enjoyable film based on a remarkable true story. Alicia Vikander gives another powerful and convincing performance as Vera and it is always good to see Emily Watson and Dominic West (playing her mother and father) on screen.
The film looks gorgeous - particularly when Vera visits Oxford. Here she meets university teacher, Miss Lorimer - played superbly (but criminally underused) by Miranda Richardson.
I shared Vera's joy as she gains her university place. However, this was tinged with sadness - as I was all to aware of the tragedy just around the corner. 
Testament Of Youth's story is told simply and carefully. The tragedies that befall Vera are dealt with in a restrained manner - nothing gets too messy.
As a result, it feels a little like a movie you would choose to watch on a rainy Sunday afternoon. This is not to suggest that this film is bad - not at all. Testament Of Youth simply tells its story in a way that is non-challenging. 
However, I did not feel as deeply affected as I perhaps should have done by what happens to the characters - despite the abilities of an extremely talented cast.
Random Observations
Saoirse Ronan was originally cast as Vera Britain. 
Have you seen Testament Of Youth? What did you think of this film? 
Do let me know in the comments section below!