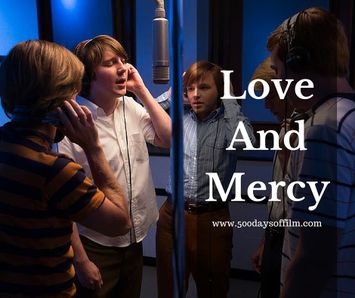 500 Days Of Film Reviews Love & Mercy And Finds A Superb And Moving Film About Musical Genius, Brian Wilson.
In the 1960s, Beach Boys co-founder, Brian Wilson (Paul Dano) is interested in only one thing - getting the music he can hear in his head out into the world.
Wilson is both obsessed and tormented by this process - often to the anger and frustration of his fellow band members and those around him.
However, the final product, Wilson's music, is wonderful. It's innovative, it's beautiful. And the world wants more.
Years later, Wilson (John Cussak) is struggling with mental health issues - his musical genius imprisoned by manipulative psychiatrist, Dr. Eugene Landy (Paul Giamati).
Car saleswoman, Melinda Ledbetter (Elizabeth Banks), may be Wilson's only hope for salvation.    
Is It Any Good?
Love & Mercy is a wonderful film - fascinating, gripping and deeply moving. Brian Wilson's life story is truly remarkable and he has, of course, created some absolutely superb music.
This is no run of the mill bio pic, however. Director, Bill Pohlad has chosen two actors - Paul Dano and John Cussak - to play Wilson at two key points in his life. 
Paul Dano portrays 1960s Wilson. He takes us into the heart of the man and his is a stunning performance.
At one point in the film, Wilson is sitting at a piano playing around with some ideas for a new song. He is about to compose God Only Knows. It is such a powerful moment -  it gave me goosebumps and moved me to tears.
Dano's performance made me feel like I was actually there witnessing the creation of something utterly amazing. He made me understand Wilson's need to get his music out into the world. Composing was not fun for him, it was a real need that often threatened to overwhelm him. His struggle with his mental health is heartbreaking to watch.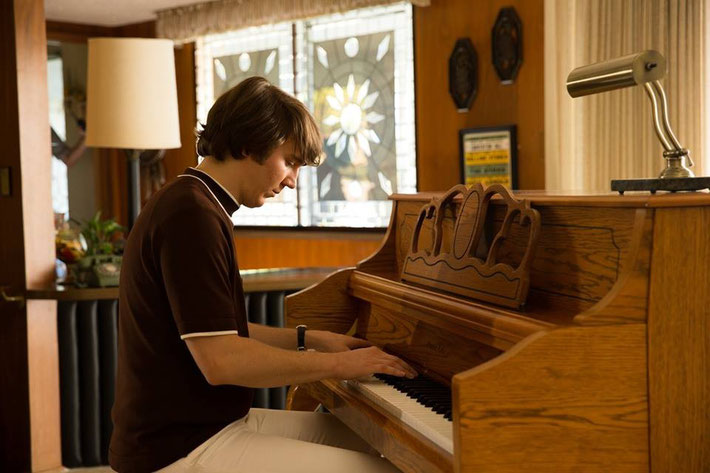 John Cussak plays Wilson in his later years. This may now be my favourite Cussak performance. He has obviously taken great care with his preparation for this role and he nails Wilson's mannerisms.
Cussak's part of Love & Mercy is part love story and part tense thriller. I thought that this was well told and gripping.
Elizabeth Banks is brilliant as Melinda. There is deep conflict within her character. Melinda falls in love with Brian but is then worried about becoming another in a long line of people who think they know what's best for him. I thought that this worked well.
Meanwhile, Paul Giamatti plays Dr Landy. He is portrayed as the real manipulative villain of the piece. Giamatti is not given much room for nuance here. However, his scenes are effective and made me feel so uncomfortable. I couldn't believe how much control he had over Brian's life.    
As gripping as this part of Wilson's life undoubtedly is, I found myself hankering to get back to the earlier part of his story. Dano who steals the show. Perhaps this is because of the wonderful material he has to work with - but he is just superb.
I loved watching Wilson create music and interact with his session musicians. He was so incredibly innovative - each song a work of art.
Love & Mercy is both a remarkable love story and wonderful story about a musical genius. I loved it, felt deeply moved by it and would urge you to watch it. 
Random Observations
Have you seen Love & Mercy?
If you have, what did you think about this film?
Let me know in the comments section below!