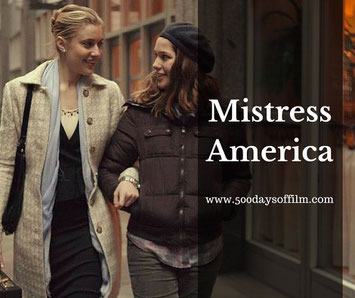 500 Days Of Film Reviews Mistress America And Finds A Smart And Funny Film With Powerful Female Leads
Tracy (Lola Kirke) is lonely.
She has started studying literature at a college in New York and just can't seem to fit in or make new friends.
When her mother suggests she contact her soon-to-be step-sister, Brooke (Greta Gerwig), Tracy reluctantly complies.
After spending just one night with Brooke, Tracy is besotted. At first glance, Brooke is everything that Tracy wants to be - effortlessly cool, sociable, independent and full of incredible, passionate ideas.
One of Brooke's ideas is to own a hip lifestyle restaurant (that also cuts hair). However, without urgent financial investment, this dream will soon die.
Tracy wants to help her almost step-sister. However, as Brooke inspires her creative writing, her true motivation is not altogether altruistic.
Can she admit to truth that lies beneath the surface? Can anyone?
Is It Any Good?
I loved Mistress America. Here is a whip smart comedy featuring two strong female leads and a script that zings from start to finish. 
In other hands, Mistress America could have felt pretentious - however, director, Noah Baumbach, handles his story well and keeps us on side.
He wrote the script with his partner, Greta Gerwig, and it is just fabulous - phrases and lines that you feel could and should be savoured (and quoted).
Gerwig's performance as Brooke is superb. She brings incredible energy to her role - energy that feels both attractive and repulsive. 
She has so many ideas and yet so little follow through. Her appetite for her own life threatens to devour and destroy the lives of those around her.
At the start, we fear for Tracy. However, Tracy is no weak, besotted teen. She has her own selfish and destructive nature. She has her own journey.
The two characters combine brilliantly and make for a laugh out loud comedy that also manages to have interesting things to say about growing up and the space between dreams and reality.
I would wholeheartedly recommend Mistress America and I am very much looking forward to watching Noah Baumbach's other films. 
Random Observations
Mistress America has a brilliant soundtrack. For me it felt so evocative of 80s movies.
Have you seen Mistress America?
If you have, what did you think of this film? Do let me know in the comments section below!