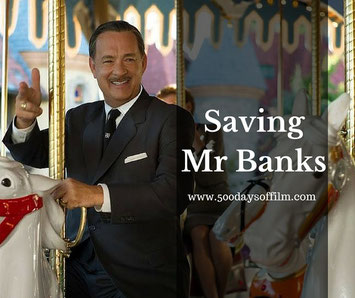 500 Days Of Film Reviews Saving Mr Banks And Finds An Utterly Charming Story 
When they fell in love with Mary Poppins, Walt Disney's daughters made him make a promise.
He had to promise them that he would make a film based on this classic story by P. L. Travers. 
You would think that this would be an easy promise for a man like Walt Disney to keep. But that wouldn't be the case.
In fact, taking Mary Poppins from page to screen proved a significant challenge for Disney (played here by the ever brilliant Tom Hanks). His patience was sorely tested by the book's feisty author (superbly portrayed by Emma Thompson).
Travers was reluctant to hand her book over because she was worried that Disney would somehow cheapen her beloved story. As, unbeknownst to Disney, Mary Poppins was a deeply personal story for Travers - for her it was as much about a magical nanny as it was about her own father and the sadness of her past.
Is It Any Good?
I love Saving Mr Banks. I could watch this film over and over again. I could end my review right there couldn't I! I love this film. You should see it. The end.
The movie tells its story beautifully.  It made me realise more than ever that Mary Poppins is really not about the children at all but is all about the father, Mr Banks.
The film suggests that Travers saves Mr Banks in Mary Poppins (by making him realise what is truly important in life) because she couldn't save her own father (Colin Farrell) who was also a banker, but who suffered from alcoholism. 
Moving between her past in Australia and her present, Saving Mr Banks explains why Travers was so fiercely protective of her classic tale.
What really makes this film work for me are the central performances of Hanks and Thompson. They are both superb. Thompson pitches her performance beautifully. Waspy, infuriating and yet somehow retaining our sympathy. She is a joy to watch. 
Hanks is just amazing in this movie. I couldn't believe how much he looks like Walt Disney. Who'd have thought? Hanks' Disney is full of charm, warmth and charisma - and yet you also sense that this is a man that rarely takes no for an answer. 
Meanwhile, Paul Giamatti is wonderful as Travers' driver. Their relationship is what allows us to see the author's softer, more vulnerable side.
B.J Novak and Jason Schwartzman are brilliant as the Sherman brothers. I couldn't help feeling all emotional as they began to create the songs that we now know (and love) so well. 
Saving Mr. Banks is a engaging story and a truly lovely film - one that I would highly recommend.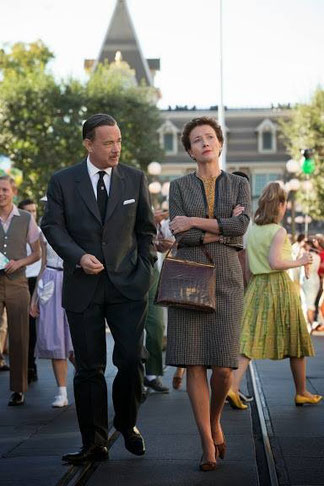 Random Observations
I loved the end of this film when audio of the real P. L. Travers is played. This just made me appreciate Emma Thompson's performance all the more.
After I watch a film about a real person (well to be honest about anything), I am often Google them to see how close the movie is to the facts of 'real' life. I have to confess that I didn't know much about P.L. Travers and Saving Mr. Banks made me hungry for more. What happened next, I wondered. 
If you would like to keep the film's sentimental, feel good emotion, don't check out the real P. L. Travers. What I read, soured my feelings somewhat.
I'd prefer to stay with the Emma Thompson version. Real life can be highly overrated!
Have you watched Saving Mr Banks? If so, do you love it as much as me? 
Whatever your opinion, let me know - do leave me a comment in the box below!