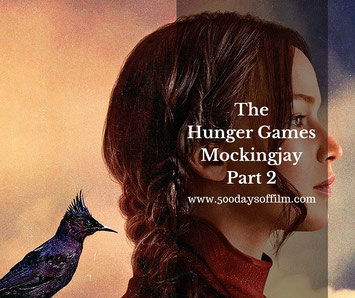 And So It Ends - 500 Days Of Film Reviews The Hunger Games Mockingjay Part 2 
The time for words has passed. It is now time for action.
Katniss Everdeen (Jennifer Lawrence) no is sick of being used as a propaganda tool for the rebellion.
Reeling from events following Peeta's return from the Capitol, she wants to get involved in the war. She wants revenge.

Katniss knows who is responsible for all the years of death and destruction in Panaem. There is no chance for lasting peace so long as the tyrannical President Snow (a delicious Donald Sutherland) remains in power. 
For, even as his grip on the Districts weakens, Snow is still playing games - very dangerous games.
Snow must die - and Katniss wants to be the one to kill him.
Is It Any Good?
I had mixed emotions going into the cinema to watch The Hunger Games Mockingjay Part 2 (MJ2).
On the one hand, I was incredibly excited to watch the last part of Katniss' story unfold. On the other, I was worried - could this film do justice to an incredible film series?
I left the cinema happy. Satisfactory endings are never easy and MJ2 is not perfect but the film is enjoyable and consistently entertaining. It remained, for better or worse, true to its source material - Suzanne Collins' third and final novel.
The Hunger Games Mockingjay Part 1 (MJ1) focused more on discussion than action. This was a disappointment to many fans of the film series. I enjoyed MJ1 and found much of its themes (around the use of the media as a tool in modern warfare) fascinating.
I was looking forward to MJ2 because I felt that the series needed to crank up the tension and get stuck into some thrilling action. I was not disappointed. MJ2 picks up exactly where MJ1 left off. Before long, Katniss is in the thick of war.
MJ2 has many exciting, innovative action set pieces in this film. In those moments, I felt pretty tense I have to admit. I loved the scene when Katniss is underground in particular. It felt like a homage to some of my favourite horror movies (albeit in a 12A frame).
However, that is not to suggest that MJ2 leaves its brain at the door. I was impressed by how the film raises complex issues involving the ethics of warfare. Is it acceptable to kill innocent people in pursuit of your wider objective? 
This all feels apt today and certainly inspired some interesting post-film debate in my house!  
It was wonderful to see all of the central Hunger Games characters again. I feel that I have invested so much time in all of them - I was genuinely pleased to see Haymitch, Effie et al arrive on screen.
Jennifer Lawrence is, once again, superb as Katniss. What an iconic performance. While MJ2 allows her little opportunity to display her acting range - she is pretty much in shock throughout - it is a testament to Lawrence that she manages to make such a bleak situation engaging.
Lawrence is ably supported by Josh Hutcherson (Peeta) and Liam Hemsworth (Gale). However, I did feel that MJ2 didn't know quite what to do with these two characters. They were just there, hanging around, really.
For me, the love triangle has always felt like the least interesting part of The Hunger Games films. In fact, it felt odd whenever the topic of who Katniss was going to chose came up. I mean, Panem is at war and people are dying truly horrible deaths - who really cares which boy gets to go home with the Mockingjay?

MJ2's supporting cast are all superb. They all - from Woody Harrelson (Haymitch), to Julianne Moore (President Coin) to Elizabeth Banks (Effie) - just light up the screen. Special mention has to go to President Snow himself - Donald Sutherland is phenomenal in every scene. He looks like he is having so much fun with this role. 
There is pure class in this cast that is for sure.
As soon as I saw Plutarch Heavensbee, the death of Philip Seymour Hoffman hit me hard. It still feels impossible to accept that this talented man is no longer with us. He brings so much to his role is a joy to watch.
Hoffman died with about a week's worth of filming left to do for MJ2. For the most part, the film copes with this loss. However, there is a moment at the end of the movie when I really missed him. This scene lacks punch - he would have made it something special.
Many critics have found the end of MJ2 problematic. Many have referenced T S Eliot's poem, The Hollow Men, to suggest that the saga ended "not with a bang but a whimper".
I do understand this. There are moments where MJ2 drags and I did wonder if the two halves would have been better as a whole.
The film ends several times and when the credits rolled I felt strangely flat. However, I do remember feeling the same way about the book - as if Collins couldn't bear to say goodbye to Katniss. And I don't blame her for that.
Like with the books, MJ2 does not come close to the thrilling, visceral, emotional experience of the first film installment. The Hunger Games was a special book and is a special film - one that remains my favourite. 
If you are a fan of The Hunger Games series, you should watch this film - no question. It is entertaining, enjoyable and brought Katniss' story to a steady conclusion.
However, I am left wanting to watch the first film again - just to relive the phenomenal experience of watching that movie - it certainly was a tough act to follow.
Random Observations
I found it useful that I had watched Mockingjay Part 1 again in the days before I saw MJ2 - although I would have soon caught up I'm sure.
Here is my review for The Hunger Games.
I did have an issue with the CGI in some of the scenes of this movie - I felt myself yearning for more innovative physical effects. 
Have you seen The Hunger Games Mockingjay Part 2? If so, what did you think of the final film in this series? 
Do let me know in the comments section below!