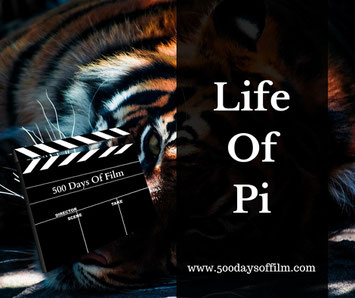 500 Days Of Film Reviews Life Of Pi And Finds A Magical Film About Storytelling
A writer (Rafe Spall) is told that a man called Pi has a story that will help cure his writer's block. 
Feeling rather skeptical, he visits Pi's house.
There, he is told that the story, about a boy stranded at sea in a boat with a hungry Bengal tiger, will not only get him writing again but will also make him believe in God.
Is It Any Good?
You may have realised by now, but I am borderline obsessed with storytelling. This is what really interests me about film making.
Whatever the genre or source material, I love to unpick how the director, cast and crew have gone about telling their story.
With Life Of Pi, director, Ang Lee, took what many people thought was an unfilmable book and created something truly magical. It is all about the power of stories and the art of storytelling and, as a result, I absolutely loved this film. 
I first saw Life Of Pi at the cinema in 3D. Now, I am no fan of 3D (I find it adds very little and just ends up making everything feel dark and uncomfortable) but, on this occasion, I am so glad that I made a stereoscopic exception.
If you can see Life Of Pi in 3D I would really recommend that you do - it is an incredible experience. It made me feel truly immersed in the film and was really breathtaking, I felt, perhaps for the first time, that I would have lost something significant by choosing 2D.
As a result,  I was interested to see how my first experience with this movie would compare to seeing it at home in 2D. 
I am so pleased to report that 2D Life Of Pi is wonderful. This is a truly beautiful film with (Oscar winning) cinematography that blends real effects, CGI and digital effects seamlessly.
Watching Life Of Pi again made me realise that, yes the 3D added a lot to the movie, but that wasn't the reason why I love this film - for me, it's all about the story.
Irrfan Khan is superb as the adult Pi. His performance is just so gentle and engaging. 
Meanwhile, Suraj Sharma is a revelation as the young Pi. It is hard to believe that he was just 17 when he filmed Life Of Pi and that this was his first acting job. His is a truly incredible and moving performance.
I admit to feeling quite nervous about Richard Parker, the Bengal tiger. How would Lee manage this character? One wrong visual step and the whole film would have looked ridiculous. 
I needn't have worried as Richard Parker is incredible. There never a moment when I thought that this was anything but a real tiger in the boat with Pi.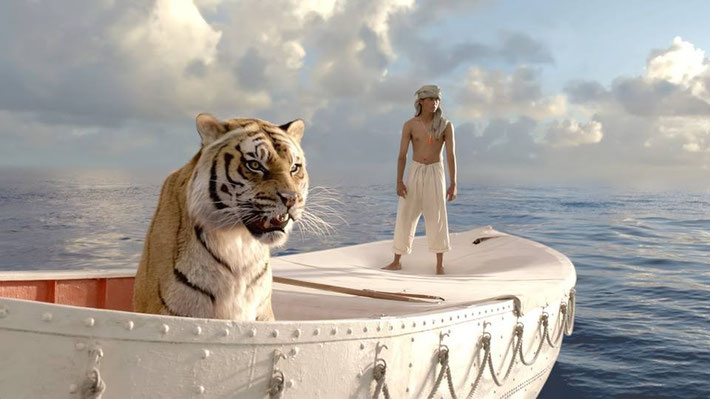 However, of course, he wasn't. "We didn't want our actor to get eaten," Bill Westenhofer, Life of Pi's visual effects supervisor, explained in an interview with The New York Times. As a result, the tiger is mainly a digital creation.
What makes Richard Parker such a amazing character in both the book and the film is that there is no attempt to anthropomorphize him.
He is a tiger and he acts like a tiger - he does not possess human qualities. This, I think, is key to the success and wonder of the tale.
Life Of  Pi is a brilliant, magical film about faith and the power of stories. I enjoyed it immensely - both in 3D and 2D. It is part fantasy and part an (oddly credible) tale of survival. 
However, it doesn't matter if you believe Pi's tale - the power of this film lies in the act of storytelling.
Random Observations
It was Suraj Sharma's younger brother who persuaded him to audition for the role of Pi. Over 3,000 boys auditioned for the part.   
Have you watched Life Of  Pi? Did you love it as much as me? Do let me know in the comments section below!