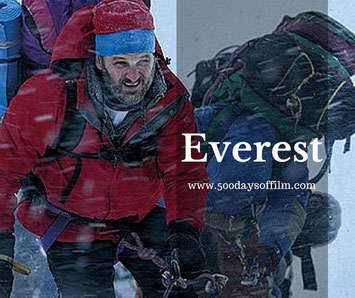 500 Days Of Film Reviews Everest And Finds A Moving And Exhilarating True Story
"Human beings simply aren't built to function at the cruising altitude of a 747" - Rob Hall, Everest
On 10th May 1996, Rob Hall (played by Jason Clarke) set out to guide a group of experienced climbers to the summit of Mount Everest. 
The expedition was organised by Hall's business, Adventure Consultants, which pioneered the commercialization of Everest.   
However, on that day things started to go wrong. Tragically wrong.
The trek became overcrowded with climbers, mountain ropes were not fixed properly and oxygen tanks went missing. 
When a massive storm hit the mountain, Hall and his group were left stranded - each trying to survive the night, each suffering in the most brutal conditions.
Is It Any Good?
Everest is a breathtaking, exhilarating and, at times, deeply moving film based on a tragic true story. 
While many have speculated on the tragedy, what happened on that day in May remains unclear. 
Everest, however, does not seek to apportion blame or anoint a hero. It just wants to be true to the event, humanize its characters and recreate what happened on the mountain.
The film has a lot of explaining to do at the start - especially to the more inexperienced climber (like me).
Just how do you climb Mount Everest? I was fascinated by the challenge. However, after watching this movie, I don't think I could have made it past Kathmandu airport.
Of course, having set the scene, the film then needs to deliver the mountain. And boy does it deliver.
The cinematography is stunning. The camera swoops around the landscape displaying the dizzying heights and the bottomless voids. The film makes you feel the size and scope, beauty and brutality of Everest.
Much of the filming took place in Nepal and it was, by all accounts, a tough shoot. Everest's cinematographer, Salvatore Totino, in an interview with The Hollywood Reporter, explains that it was "very physical, working at higher altitudes and not having time to acclimatize your body. You get out of breath and dehydrated very quickly".

Of course, it would have been impossible for the film crew to shoot all scenes on the mountain itself. So, base camp scenes were filmed at a studio in Rome and Everest's Hillary Step, Camp 4, Ice Fall, and summit were recreated in London's Pinewood studios.
The result is a visually breathtaking film that deserves to be seen on the biggest screen that you can find.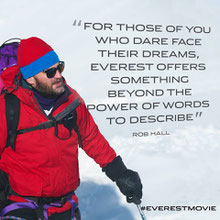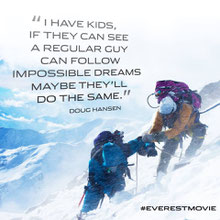 Of course, visuals are all well and good but, alone, they do not a good story make. Director, Baltasar Kormákur, needs us to care about his group of climbers. 
For me, the film both succeeded and failed in this. I most certainly cared about the people involved and was moved to tears in places. 
This is largely because of the movie's superb central performances. Jason Clarke is brilliant and I completely believed in him as Rob Hall. His conversations with Kiera Knightly were really very moving.
Josh Brolin has an important role as Beck Weathers and plays it extremely well. So too does John Hawkes - as every-man Doug Hansen. I really loved his character, understood his motivation and desperately wanted him to reach the summit safely.
Meanwhile, Jake Gyllenhaal is brilliant as fellow Everest guide Scott Fischer. He doesn't have much screen time but still delivers a powerful performance (if you are looking for a film with more Jake - try End Of Watch).
Special mention goes to Emily Watson. She plays base camp manager, Helen Wilton. We understand the gravity of the situation by watching a series of heartbreaking emotions play out on her face. She is just fantastic.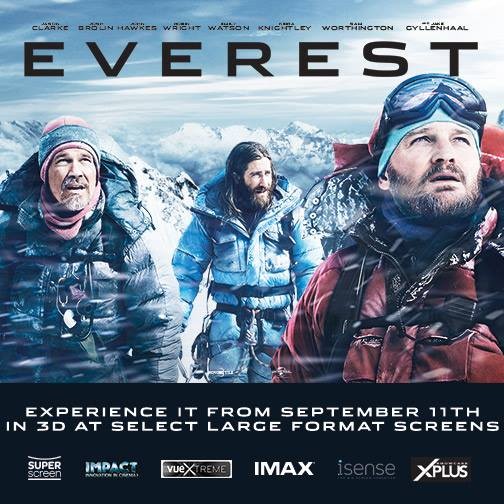 However, I did feel that, as the mountain became crowded with climbers, so too did the film.
As a result, it struggled with focus and pacing. At one stage, (as many of the climbers became pretty beardy) it was tricky to keep track of who was where. 
Pacing wise, I could have done with more of the characters and perhaps slightly less mountain. 
For example, Robin Wright is brilliant as Beck's wife Peach. We see her getting the job done but that part of the story felt too brief and a little rushed.
Perhaps this is a result of my decision to know as little as possible about the events that took place that day before watching the film.
I am now wondering how different my experience would have been had I gone into it with more knowledge.
Perhaps surprisingly, Everest is not based on the bestselling (yet controversial book), Into Thin Air, by journalist and fellow climber, Jon Kraukauer (played by Michael Kelly in the film).
Instead, Kormákur used Beck Weathers' book, Left  For Dead, and audio tapes from the day itself.
According to an article by Entertainment Weekly, Jason Clarke and the film's producer, Tim Bevan, listened to the tapes with Rob Hall's wife Jan Arnold, their daughter, Helen Wilton, Guy Cotter (portrayed by Sam Worthington), and Dr. Caroline MacKenzie (Elizabeth Debicki).
"None of the books that have been written had access to these tapes," explains Kormákur. "They listened to it with us which was incredibly moving and, of course, very traumatic for them to go through again. 
"But it was also very informative because we got all the small details. There were very different stories out there in many of those books and we wanted to try to understand what was misunderstood. And a lot of this came through those tapes."
Those small details play a powerful part in the film's emotional and moving story. 
Overall, Everest feels like an important film - it both honours the memory of those caught up in the tragedy and also questions the concept of commercializing Everest.
For, as the film explains, the only competition that really exists on Everest is "between every person and this mountain. The last word always belongs to the mountain".
Random Observations
Rob Hall was nicknamed the mountain goat because of his climbing experience and expertise. By 1996, he had summited Everest five times - more than any other non-Sherper mountaineer - and led 39 climbers to the top of the mountain.
Just a small shout out re the Kiwi accents in this movie. I thought that they were all really good. 
Throughout this film, I was wondering why anyone would want to climb Everest. The film does attempt to address this question (beyond the "because it's there" standard Mallory response). Guy Cotter describes the experience as a rebirth - an experience that allows you to put all of your life's worries to one side as you concentrate on survival. 
But oh my goodness that mountain is high and cold. No great news flash there but I did leave this movie thinking… not in a million years or for a million pounds… did you?
If you have seen Everest, I'd love to know what you think of this movie. Leave me a comment in the box below!