500 Days Of Film Reviews Drama, Amour, Starring Emmanuelle Riva, Jean-Louis Trintignant and Isabelle Huppert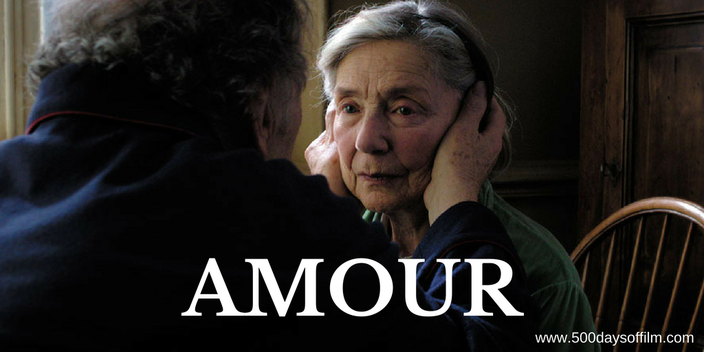 An elderly couple are discussing a piano recital they have just attended. Anne (Emmanuelle Riva) remarks that there were "incredible semi quavers in the presto. Such finesse!" George (Jean-Louis Trintignant) asks if the pianist did her proud and we are given a glimpse of Anne's past  - as an accomplished musician and piano tutor.
As we continue to watch Anne and George move around their Parisian apartment, it is clear they live and enjoy a cultured life. They surround themselves with art, music and literature. They are in their eighties and still very much in love.
Then, the morning after the concert, Anne suffers a stroke and both of their lives are changed forever. 
Is It Any Good?
Amour starts with an end. Firemen force entry into a flat and discover the body of an elderly woman on a bed, surrounded by flowers. 
And so, from the very beginning, we know what will happen to Anne. There will be no miracle cures, no happy endings. We know this. And yet we remain curious. What happened? How did she die?
This curiosity is only natural. However, it also feels uncomfortable. Why are we watching Anne, waiting for her to fall ill and die? Why do we stare so long at these people in their most intimate moments?
The answer is because director Michael Haneke compels us to watch his story. He does this by involving us in the everyday lives of Anne and George, thereby, making us care deeply about them. 
Trintignant and Riva are outstanding. Not a single moment passed when I wasn't utterly convinced by them both. They feel like a real couple. As they cleaned dishes and made breakfast, I almost felt like I was spying on them so natural are their performances in this film.
Haneke's camera observes all, even as Anne becomes ill. And I wanted to look away as she deteriorated in body and mind. I felt an enormous weight of sadness watching George care for his wife. It was almost unbearable. I didn't want to see her pain, her humiliation.
But I just couldn't stop watching.
I am wondering now why I kept watching. 
If I had to guess, it is because of the love. I stayed because of George's unwavering love for his wife, for Anne. It made me think about what love looks like at the end of the game, when the person you love is disappearing in front of your eyes.
Amour left me feeling pretty broken, if I am honest. I felt depressed and heavy with the awful realisation that, one way or another, this could happen to us all. However, the film is also uplifting. Again, I think this is because of the love. The amazing, powerful love of which we humans are capable. 
And also because, in the face of pain and death, life can look very precious indeed.
Random Observations
Have you seen Amour? What did you think of this movie?
Do let me know in the comments section below. I'd love to hear your thoughts.