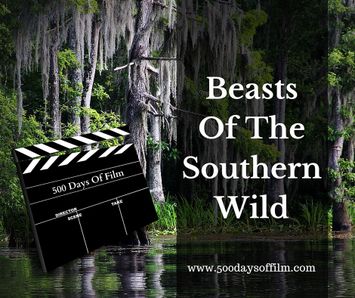 500 Days Of Film Reviews Beasts Of The Southern Wild And Finds A Wonderful Fantasy About A Young Girl's Fight For Survival
"The whole universe depends on everything fitting together just right.
"If one piece busts, even the smallest piece, the entire universe will get busted" 
These are the wise words of Hushpuppy, a fierce and imaginative young girl living with her father in the Bathtub - a community set in the deepest reaches of the Louisiana bayou, cut off from the rest of the world by a levee.
Hushpuppy understands this because her teacher, Miss Bathsheba, has taught her about the dangers of global imbalance and the likelihood of apocalypse. 
Armed with this knowledge and her scared by her father's weakening health, Hushpuppy knows that she must learn how to survive in order to face an uncertain future.
Is It Any Good?
Beasts Of The Southern Wild tells its tragic and beautiful story through the eyes of central character, Hushpuppy. We see the world as she sees it - both exciting and beautiful and also dangerous and scary. 
Hushpuppy makes sense of her life by taking refuge in her imagination. And this truly wondrous place gives the film its magical, fairy tale quality. 
As her community lives in fear of its own destruction, Hushpuppy has to learn how to survive. She learns much from her father, Wink, who, in his dying days, is desperate to prepare her for the worst.
She has also been taught by Miss Bathsheba, whose lessons about global imbalance include tales of monstrous beasts called aurochs who, as the polar icecaps melt, will be revived.
Hushpuppy imagines these child-eating creatures making their way back to the bayou. She knows that, one day, she will have to face them - much like, one day, she will have to face the future alone. 
The film's emotional power owes much to the wonderful Hushpuppy and her uplifting outlook on life. She is wise well beyond her handful of years.
Hushpuppy felt completely true to me. She is both worryingly vulnerable in her little white boots and yet also incredibly fierce in her determination to survive on her own terms.
Quvenzhané Wallis gives an absolutely outstanding performance as Hushpuppy. 
In fact, all the performances in Beasts Of The Southern Wild are wonderful. Director, Benh Zeitlin, decided to cast real bayou residents in his film. For example, Wink is (superbly) played by the Dwight Henry. 
Henry owned a bakery in the area where Zeitlin was developing his film. He had no desire to be an actor - with his growing business he just didn't have time. However, the filmmakers persuaded Henry to play the role. Henry explains, in an interview with the San Diego Reader, why they were so keen to cast him:
"They contemplated bringing in professional actors from New York or California to do my roll, but they wouldn't have brought the passion to the film as someone who went through this on a regular basis. I was in Hurricane Katrina in neck-high water. I have an inside understanding for what this movie is about. I brought a passion to the part that an outside actor who had never seen a storm or been in a flood or faced losing everything could have.
"Benh helped me so much to bring what I go through in real life into that part. He helped me with the transition. I was two-years-old when Hurricane Betsy hit New Orleans and my parent had to put me on the roof of the house. An outsider couldn't have brought the passion to the role that I did."
I would thoroughly recommend the magical Beasts Of The Southern Wild. It is a beautiful, emotional and thrilling story.
Scientists take note - this is how you warn of climate change.
Random Observations
Quvenzhané Wallis was only five when she got the role. She was nine when she received her Oscar nomination - the youngest best actress nominee in the history of the Academy Awards.
Have you seen Beasts Of The Southern Wild? What did you think? I'd love to know - you can leave me a comment in the box below!