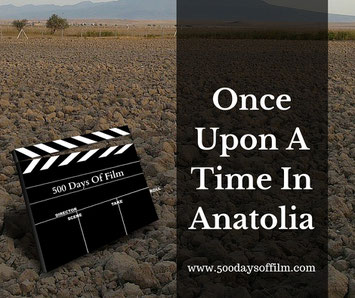 500 Days Of Film Reviews Once Upon A Time In Anatolia And Finds A Haunting, Atmospheric Film That Rewards Your Patience
A group of men set out on a stormy night to find a body that has been buried somewhere in the desert. 
What they think will be a short, uncomplicated task soon becomes an epic journey that will have a profound impact on all involved.
Is It Any Good?
Some films cover a lot of ground in a short amount of time. This is not one of them.
Once Upon A Time In Anatolia is a film that waits and makes you wait with it. For me, this did feel frustrating at times but, by the end, I was so glad to have stuck it out as my patience was richly rewarded.
If you are willing to let a film wash over you and if you don't mind the fact that nothing much appears to be happening, you will find lots to enjoy in this film.
The film slowly drip feeds us plot and character developments so that, by its end, we feel the resonance of every story thread.
The performances are all wonderful. The policemen accompanying the murder suspect, Kenan, to the burial site are darkly funny and Yilmaz Erdogan is superb as Commissar Naci. 
Sitting in the middle, as the policemen discuss such mundane topics as the merits of buffalo yogurt, is Firat Tanis as Kenan whose performance is just brilliantly. You feel his despair and his desperation - emotions made even more powerful by the hint that he may not be responsible for the murder.
Meanwhile, Taner Birsel as Prosecutor Nusret and Muhammet Uzuner as Dr Cemal have fabulous chemistry - particularly when discussing the story of a woman who predicted her own death. Nusret tells the story as an example of how little we can know about life. Cemal analyses it with his rational doctor's mind.
The result is heartbreaking.
Once Upon A Time In Anatolia makes many observations about life - particularly with regard to the film's setting. At one point in the night, the men take shelter from the storm with a local mayor. Each reacts differently to the mayor's beautiful daughter. 
When she offers him a drink, Kenan weeps to be included in her hospitality. Nusret and Cemal lament the waste of the girl's beauty in the depths of the desert. What use will her looks be to her they wonder.
Once Upon A Time In Anatolia is a film to approach with the right mindset. If you are willing to give it your time and patience, it will reward you with a wonderful movie experience.
Random Observations
Have you seen Once Upon A Time In Anatolia? Would you be willing to watch a film that takes its time? Do let me know your thoughts in the comments section below!