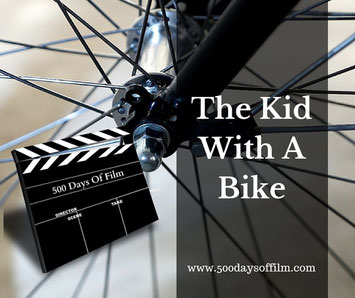 500 Days Of Film Reviews The Kid With A Bike And Finds A Wonderful Story With Powerful, Moving Performances
Living in a care home, Cyril is a young boy who refuses to believe that he has been abandoned.
He is desperate to be reunited with his father and find the bike that he left behind.   
He runs away from the home and returns to the flat where his father had lived.
It is empty, but he does meet hairdresser, Samantha, who agrees to help him and foster him on the weekends.
Is It Any Good?
The Kid With A Bike tells a small story of a lost child trying to find his father. However, it feels far from small to watch - this is a wonderfully powerful and extremely moving film.
Thomas Doret is astounding as Cyril. His performance is so natural that it is easy to forget that he is acting. Cécile De France is also superb as Samantha.
Although Cyril is not an easy child to like (he is fierce, uncompromising and often brutal) you never stop rooting for him and desperately hoping that he will find someone to care for him. 
His situation has hardened him but you do not feel that he is a lost cause - the damage could yet be undone.
However, time is of the essence as Cyril could also be tempted down a path to a dark and dangerous place - from which point it may be impossible for him to return.
Directors Jean-Pierre Dardenne and Luc Dardenne build the tension in The Kid With The Bike quietly and stealthily. Before I knew where I was, I was on the edge of my seat.
When the film ended, I felt really quite sad - not because of what had happened but because I desperately wanted to know what happened next.
That is not meant as a criticism of the film's conclusion - I believe that this film ended perfectly.
No, my sadness was testament to the power of The Kid With A Bike and the performances within this brilliant film.
Random Observations
Have you watched The Kid With A Bike? Did you find it to be a wonderful film? If so, let me know in the comments section below! If not, tell me why I have this film wrong...