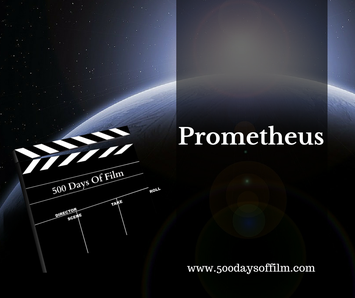 500 Days Of Film Reviews Prometheus And Finds A Spectacular But Silly Film
Its 2089 and, on an archaeological expedition, Elizabeth Shaw (Noomi Rapace) and Charlie Holloway (Logan Marshall-Green) discover a cave full of ancient paintings. 
One design is of particular significance as it, along with similar drawings found on artifacts throughout the ages, depicts a specific planetary location. 
Charlie and Elizabeth believe that this planet holds the answers to life's central mysteries -  who are we and where did we come from?
Jump forward to 2093, and they are journeying to Planet LV 223 on the spaceship Prometheus, each desperate for answers, each unaware of the dangers that lie ahead. 
Is It Any Good?
Opinions on Prometheus have been hard to ignore.
For a start, the film was hyped to a massive degree. The release of a teaser trailer was an international event such was the global anticipation for this film.  
As much as I tried to avoid forming an opinion about Prometheus (before I had actually watched it), I was well aware that audiences generally found the film disappointing.
As a result, I decided to let the dust settle before I watched the movie. Perhaps too much dust really as now talk of Prometheus 2 is building. So definitely time to watch the movie then.
I have decided to review Prometheus in a slightly different way. I want to show how much of an open mind I had and present my genuine reactions to the movie. So, this review will comprise my written my notes -  rough and ready here we go:
---
Time
0mins 
2mins
Forgot to look at my watch (this may happen again)
15mins (ish?)
About 17mins 
23mins
25mins ish 

30mins
49mins
54mins
1hr 4mins
1hr 17mins
1hr 20mins

1hr 22mins
1hr 24mins
1hr 35mins
The End
Plot Point
Credits

Opening Sequence
Cave Discovery

Introducing David
Exposition
Atmosphere
Mapping
Sets
David (again)

Action… or lack thereof
Actual action
Grizzly demise

David (yet again)
Shaw's DIY SOS
Don't open the door!
Denouement type stuff 
Action and sacrifice
Observations
Wow, what a great cast.

This is all so beautiful and gorgeously cinematic.
Am now thinking about Werner Herzog's fabulous Cave Of Forgotten Dreams. How amazing was that documentary?
Wait… focus Jane.
Michael Fassbender is awesome in everything. Name me an accent he can't do - seriously.
Blimey. Is that Guy Pearce?
2mins without your suit and you are dead. Good to know.
How cool is that mapping technology?
The sets on this film are amazing. Imaginative and stunning. So much work must have gone into every single scene.
I think David may have an agenda here...
It has been almost an hour and I am starting to get impatient for some action...
Finally something has happened. Shame it all feels a bit ridiculous though.
What a way to go...
So David is officially creepy now.
That is officially gross. But also stupid and not even scary.
That is not who you think it is - dopes.
Yawn.
Seriously? So much is happening right now that doesn't make any sense to me.
This film looks amazing but I feel no tension, couldn't care less about the characters and wish I had just watched Ripley again instead.
---
Random Observations
Feel I am in the disappointed camp on this one. I love a good SciFi story and Prometheus certainly looked the part but I just didn't enjoy this film. 
Noomi Rapace gives a really good performance (especially given the material she had to work with) and Michael Fassbender is superb but they couldn't save this film. 
I am not sure if the above review worked. At any rate, if I went for this format again, I will def be more accurate with my time points. 
Apparently, if you watch the behind the scenes extras on the Prometheus DVD it all becomes clear and makes you feel as if this is a better movie. Not sure I can be bothered actually - given this movie enough of my time already.
Have you watched Prometheus? What did you think? Whether you agree with me or disagree (and you certainly have that option) let me know in the comments section below!