500 Days Of Film Reviews Thriller, Gone Girl, Starring Ben Affleck And Rosamund Pike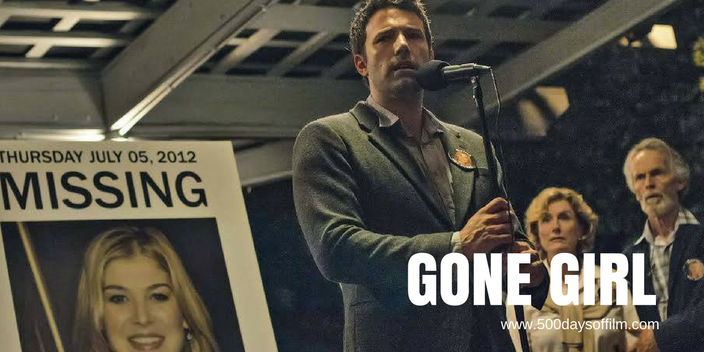 On his fifth wedding anniversary, Nick Dunne (Ben Affleck) reports that his beautiful wife, Amy (Rosamund Pike), has gone missing.
Under pressure from the police and amid a growing media frenzy, Nick's portrait of his perfect marriage begins to crumble.
Soon his lies, deceits and strange behaviour has everyone asking the same dark question: did Nick Dunne kill his wife?
Is It Any Good?
There was a time, a few years ago, when everyone seemed to be reading Gillian Flynn's Gone Girl.
As a result, the novel's cinematic adaptation was much anticipated - particularly with David Fincher in the director's chair, working from a screenplay written by Flynn herself.
Thanks to these very safe hands and some superb acting performances, Gone Girl has made a successful move from page to screen. Gripping and darkly funny, Gone Girl the movie retains to power to shock and leaves its audience with a lingering sense of unease.
Rosamund Pike is a revelation in this film. It is hard to imagine anyone else inhabiting the role of Amy. Meanwhile, Ben Affleck is perfect as Nick - conveying the dark humour and desperation at the heart of the film.
One of the issues with bringing a much loved book to the screen is that the film can sometimes fall short. The imagination has no budget after all. 
However, Gone Girl's darker moments and the visual representation of the story's twisted events feel more challenging to watch than they are to read. Fincher doesn't shy away from any of the more violent aspects of the novel and Gone Girl is all the more powerful as a result. 
Random Observations
*The BBFC rated Gone Girl as an 18 due to "a scene of strong violence, which features a significant focus on blood and injury detail. There is also a scene of domestic violence, and references to sexual violence and abuse".
In addition, the BBFC notes that there are over 50 uses of strong language as well as four uses of very strong language, accompanied by some violence: "The film also contains several strong sex scenes, strong visual and verbal sex references".
Have you watched Gone Girl? What did you think? Do let me know in the comments section below!