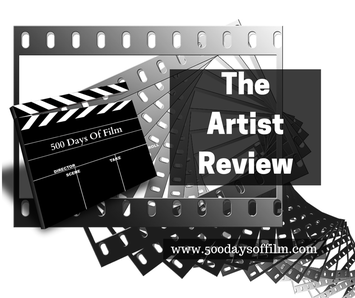 500 Days Of Film Reviews The Artist And Finds A Silent And Poignant Homage To The Development Of Cinema
It is the 1920s and George Valentin is a silent movie star. He is at the top of his game and loving every minute of his fame and success.
One day he (quite literally) bumps into young aspiring actress, Peppy Miller.
The two are instantly attracted and intrigued by one another.
Events conspire to bring them together and, with the advent of cinema's 'talkies', they also tear them apart.
Is It Any Good?
Yes! The Artist is a wonderful film - funny, sad, romantic and dramatic. Best of all, the silent cinema aspect is no gimmick but is instead used as the perfect storytelling device.
I have watched The Artist three times now. Once in the cinema, once at home and, this week, with my kids. I have thoroughly enjoyed the film every time. 
I do remember feeling nervous before my first viewing as, back then, I was not sure how I felt about silent cinema. Would I feel uncomfortable by the lack of heard dialogue? Would it jar with me?
At the beginning of the film, The Artist has a lot of fun playing with our preconceptions about silent movies. At one point we are behind the stage with George waiting for his audience's reaction to his latest film. 
We are, of course, waiting for applause. None comes and for a split second we think it is because they didn't enjoy the film. Then George breaks out in a huge smile and we realise that there is applause - lots of it - only we just can't hear the sound. 
After that it is amazing how quickly you forget the fact that you cannot hear the actors speak.
No, I should rephrase that… you are never not aware that this is a silent film. It is more that you accept it and become swept along by the storytelling.
It is surprising how few dialogue cards are needed - most of the time you are well aware of what is happening in the plot.
For example, I love the way director, Michel Hazanavicius, uses his actors, his shot composition and his script to tell his story. For example, we are given a huge hint of the conflict that is to come from the very first film starring George. 
In addition, there is one scene where we see George going down the stairs and Poppy coming up - a rather obvious metaphor perhaps but fun nonetheless.
I felt that silence of The Artist made me get much more involved in the film as I was watching the film and its characters much more closely.
It was lovely to see my two kids watch The Artist. I did not know how they would react to this film. They loved it (and, of course, the dog especially) and both were really interested in how the film told its story without the use of words.
Their reaction at the end of the film was just like mine - one of surprise and delight. 
Random Observations
Lovely to see the live orchestra accompanying the films that are depicted. I love this idea and am so looking forward to seeing Raiders Of The Lost Ark at The Royal Albert Hall with a live orchestra. 
I just love James Cromwell's performance as Clifton. 
After the success of The Artist, some film critics wondered if more directors would jump on the silent cinema bandwagon. Michel Hazanavicius was quick to stress that he chose the silent cinema format because it was central to the heart of his story and not because he was trying to be 'different' or 'clever'.
This has not become a gimmick and for that I am so pleased.