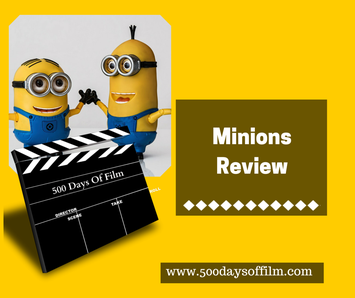 500 Days Of Film Reviews Minions And Finds A Hilarious Adventure, A Bonkers Plot And Ba Na Na!
All Minions want to do is to serve the world's most evil villain. 
Finding such a villain is easy - keeping one - well not so much. 
Having lost a series of villain bosses through one mishap or another, the Minions find themselves on their own.
Without a big boss to serve their lives lose meaning and they become more and more depressed. Just when all looks doomed, Minion Kevin steps up and offers to try to save the day - and the Minion race.
Joined by Stuart and Bob, he embarks on an adventure to find the Minions their next big boss!
Is It Any Good?
I loved Minions from the start - I was smiling from the point when they started to sing the Universal theme tune right to the end. 
Minions has a wonderful innocence and the humour in the film will appeal to children of all ages - including us big kids too. All in all, I think Universal are going to do pretty well with this film! 
While the plot is, well completely bananas, you feel happy to just go with it and enjoy the marvelous madness.
One of the things that I really loved about the movie was the language that the Minions speak. This is a mixture of English, Spanish, Japanese, Korean and French. It is just brilliant. 
Of course, Minions has a lot to live up - comparisons will inevitably be drawn with the Despicable Me films. I didn't think that story was as good as the first Despicable Me.  However, that would have been a very tall order.  
Despite this, I was very happy to spend time with Kevin, Stuart and Bob. Minions is such a fun enjoyable film. I certainly laughed a lot. 
And how can you resist all that cute?
Random Observations
The only criticism I would have is that I had seen too much of this film before I entered the cinema. The trailers have given away most (if not all) of the best bits of the opening scenes, which is a shame.
All of the Minions are voiced by Co-Director Pierre Coffin. 
Despicable Me 3 has been confirmed.