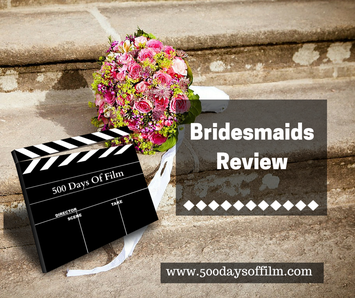 500 Days Of Film Reviews Bridesmaids And Finds A Fabulous And Hilarious Comedy About Friendship
Annie, (Kristen Wiig) has mixed feelings when her best friend Lillian (Maya Rudolph) announces her engagement.
What will this mean for the future of their friendship?
How does the news make her feel about her own life?
Despite her insecurities and worries about Lillian's engagement, Annie is determined to make the best of the situation and be the most supportive bridesmaid for her friend.
However, things get complicated when she meets Lillian's new married friend, Helen (Rose Byrne). Before long, the pair are locked into a fierce, competitive battle of the bridesmaids - with hilarious results. 
Is It Any Good?
I do love this film. It makes me laugh all the way through, every time I watch.
The reason why I have warm place in my heart for Bridesmaids isn't the result of the gags. It is because I love all of the characters. Kristen Wiig plays her part to perfection. She is both ridiculous and completely lovable in her desperate attempt to hold onto her best friend.
Meanwhile, Rose Byrne is brilliant as manipulative Helen - part devious ice queen, part sad and lonely housewife.
It is Melissa McCarthy that reallybsteals the show for me. Playing the sister of the groom, she displays pure physical comedy genius. Hers is a standout performance that I just love.
Random Observations
Melissa McCarthy has come a long way from when I first discovered her playing Sookie St James in the Gilmore Girls.
It is so fabulous to see her now taking the lead in films such as Spy. She is just brilliant and fast becoming one of my very favourite actresses.
Bridesmaids stands out in an era full of gross-out comedies. However, the unpleasant scenes in the bridal store are, for me, the weakest part of the film. These are the parts I could do without. That is probably just me, however. (Do let me know in the comments section below if you disagree)