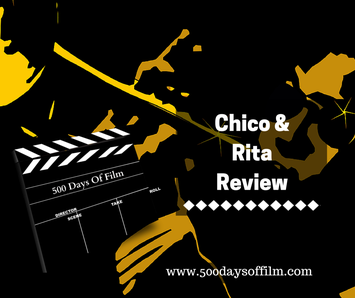 500 Days Of Film Reviews Chico & Rita And Finds Gorgeous Animation And A Beautiful Love Story
Chico is a talented young piano player in late 1940's Cuba. He meets Rita, a beautiful singer, and believes that, together, they can make it big. 
Of course, his attraction to Rita is not purely professional and soon the two fall in love.
However, their relationship is then tested by a the demands of their success and a series of heartbreaking events that threaten to ruin both of their lives.
Will they find a way to be together? Will their love endure? 
Is It Any Good?
I have to admit that I have not watched many adult animation films. Chico & Rita, therefore, took me a little while to get used to - visually. However, I was soon wrapped up in their story and they quickly began to feel as 'real' as any live action actor.
That is not to say that I forgot that they had been drawn. I was always really aware of Javier Mariscal's amazing 2D artwork and design and the incredible skill behind every single frame. 
The depiction of both Chico and Rita is gorgeous and really makes both characters come alive. You can tell that the animator loved his subjects. In addition, the wider location scenes are breathtaking.  
The music also drew me (no pun intended) ever deeper into the story. The film is as gorgeous to listen to as it is to look at. Take a look at the trailer...
Random Observations
Although this is an animation, it is an adult film. As the BBFC states, the film contains "brief strong sex and nudity".