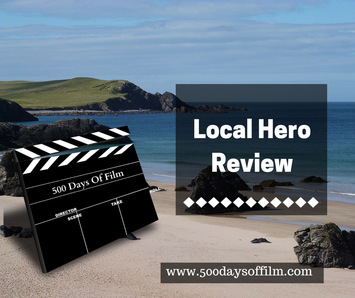 500 Days Of Film Reviews Local Hero And Finds A Wonderful Quirky Classic
Eccentric oil billionaire, Happer (Burt Lancaster) sends employee, Mac (Peter Riegert), from the comfort of his Houston office on a trip to a small village in Scotland. His orders are to buy  the village in order to build a huge new oil refinery. 
However, things do not go according to plan as Mac starts falls in love with the stunning scenery and quirky characters of the village.
Is It Any Good?
Local Hero is one of those films that, looking back, I can't believe that I hadn't seen before.
The thing is that it feels as if I know it - almost as if I have actually seen it before - particularly as the film's key music (from Mark Knopfler) is so instantly recognisable.
So, now having seen the film, I can report that I found it to be a funny, quirky, characterful movie that I enjoyed very, very much.
For a start, there is just such fun to be had watching a film that was released in 1983. Happer's office is portrayed as being super high tech in order for the contrast between Houston and Scotland to feel that much greater. This contrast still works - yet it now has an additional layer of old-school charm (ah the phones!).
The central plot of Local Hero feels familiar with its big corporate versus small village dynamic. We've seen this story many times over the years. 
What surprised me was how little Local Hero was about the conflict of the land purchase and how much it made me (along with Mac) fall in love with the village and all of its characters.
This is really so beautifully achieved. So much so that I was sad to leave everyone at the end.
I had to buy Local Hero on DVD as I couldn't rent it via Amazon or Netflix. I am now so glad as I know that this is a film I will return to watch again. 
Random Observations
Look… look at young Peter Capaldi!