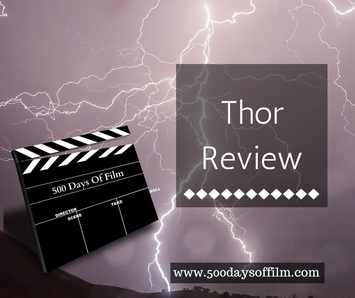 500 Days Of Film Reviews Thor And Finds An Action-Packed Adventure With Humour And Heart
Having been chosen over his brother Loki (Tom Hiddleston) to succeed his father Odin (Anthony Hopkins) as King of Asgard, Thor (Chris Hemsworth) lets his arrogance overpower him.
As a result of his reckless actions, he is cast out of Asgard by his father and banished to Earth.
There, with the help of scientist, Jane Foster (Natalie Portman), Thor tries to become worthy of his position, regain his iconic hammer and has to protect Earth and Asgard from the evil that threatens both civilisations.  
Is It Any Good?
I just love Thor. It is just such fun. The other night, I sat down to watch it with my kids and we all had a great time.
Thor's plot is simple, yet engaging and is infused with fabulous humour. You care about the characters and understand their motivations (even the baddies!).
The sets are amazing and imaginative ("Askard is so cool" states my 11-year old). The costumes are quite mad and the action is a true spectacle. 
However, the reason I love Thor is because, at its centre, it has a big heart. Director, Kenneth Branagh obviously has a lot of affection for his story.
There isn't, of course, much new to find here. 
But while the tale holds few surprises (save for a rather unexpected event at the end), the story is told really well. I actually loved its simplicity - something that I appreciated even more in the light of watching the character heavy and complex Avengers Age Of Ultron (review coming soonish).
Thor: grab your popcorn and enjoy!
Random Observations
This is the first time I have seen Natalie Portman since watching Black Swan. I was reminded of her tortured ballerina whilst watching Thor. That is not to say that these two characters are in any way alike. It is just testament to how powerful and haunting her performance was in Black Swan. 
Love listening to Anthony Hopkins!
Ah, Loki, Loki, Loki...