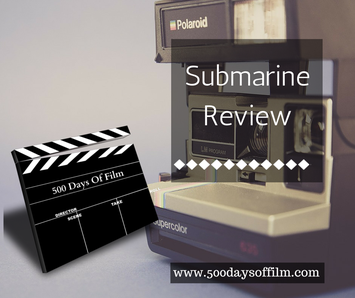 500 Days Of Film Reviews Submarine And Finds An Accomplished Comedy That Just Didn't Hit The Spot
15 year old Oliver Tate (Craig Roberts) is completely focused on two things.
Firstly he wants to lose his virginity by his next birthday - preferably to red coat wearing classmate Jordana.
Secondly, he wants to stop his Mum Jill (Sally Hawkins) from running off with their new-age neighbour (and her ex-boyfriend) Graham Purvis (played by Paddy Considine and featuring the most dreadful hair cut).
Is It Any Good?
This is the first film of my challenge that I didn't like. I am finding this film quite hard to review as I generally lack confidence in my more negative opinions. 
The thing is, I did appreciate Submarine. 
I love any film with Sally Hawkins in it and thought that Craig Roberts and Noah Taylor (who plays Lloyd Tate, Oliver's father) were very good. I also appreciated the way the story was told.
I just didn't like it.
Oliver is self-obsessed - he both annoyed and frustrated me. While I recognised his deadpan delivery as comedic, he didn't make me laugh. The film didn't make me laugh.
I could understand why Oliver's mother would be tempted to have an affair - her life is very hard - I just didn't see how she could be attracted to the odious Graham. 
The only character that I felt any sympathy for was Lloyd Tate. His quiet struggle with depression was quite moving. 
Submarine isn't a bad film - far from it. It has great style and intelligence. 
Perhaps I am not getting something that I should be. Perhaps I should watch it again. Perhaps I should just accept that not all films on my list are going to work - for me.
Random Observations
Ah, do you remember the polaroid camera? Brilliant!