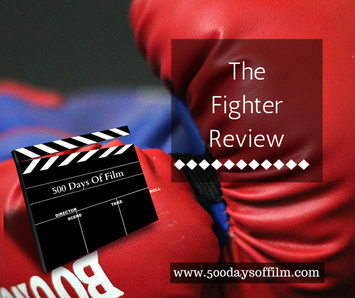 500 Days Of Film Reviews The Fighter And Finds An Enjoyable True Story About The Ward Boxing Brothers
The Fighter is based on the 1990s true story of Micky Ward (Mark Wahlberg) as he stands on the cusp of achieving success as a welterweight boxer. 
Trying to move his career forward towards more serious matches, Micky starts to question the abilities and motivations of his mother/manager Alice Ward (superbly played by Melissa Leo) and his trainer - elder brother and ex professional boxer Dicky (Christian Bale).  
Dicky is hailed as 'The Pride Of Lowell" (Massachusetts) after his 1978 fight with Sugar Ray Leonard when he knocked Leonard down and eventually won the match. However, since then, Dicky's life has spiralled downwards - he lives in the past, is delusional about his future and has become addicted to crack. 
Micky is torn between his feelings of loyalty towards his family who may be standing in his way and his aspirations as a boxer. 
Is It Any  Good?
I have to be honest. I didn't know the story of the Ward brothers and I am not a big fan of boxing movies. 
This is why my challenge is so good for me - without 500 Days of Film, I would have skipped The Fighter altogether - and I would have missed a really enjoyable film.
While it is pretty straightforward in structure and some critics have complained that it isn't challenging enough, for me The Fighter is a really good piece of storytelling with engaging drama and humour.  
Christian Bale is larger than life playing a character that almost bursts out of the screen. His acting seems over the top until you see the end credits and realise that his portrayal of Dicky is scarily close to the real thing! 
Meanwhile, Mark Wahlberg is on the opposite end of the scale. His Micky is calm and still - but no less compelling for that. Indeed, in an interview Christian Bale stated that it was Wahlberg's quiet performance that enabled him to turn his performance up to eleven.
Random Observations
In his review of The Fighter, Guardian film critic, Peter Bradshaw, calls time on "Hollywood's   newest and most annoying cliche. Whenever there's a film based on real people, it's practically a legal compulsion now to show a sentimental, celebratory snapshot of these real people over the closing credits. There they are, you see, recognisable though obviously not as attractive as the stars playing them, underwriting the movie's authenticity with their palpable realness."
This comment made me smile. However, I also really enjoyed the end reveal of the 'real' people behind the film's story. It made me realise just what a good performance both Christian Bale and Mark Wahlberg gave. Believe me, without this end credit info, I would have been straight on to Google!
The Fighter also features a brilliant performance from Amy Adams as Charlene, Micky's feisty girlfriend.
Have you seen The Fighter? What did you think? Is it a good addition to the boxing film genre?