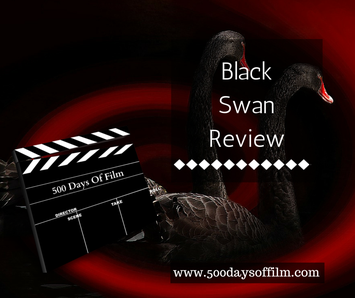 500 Days Of Film Reviews Black Swan And Finds A Dark And Disturbing Tale About The Dangerous Pursuit Of Perfection
Nina (Natalie Portman) is a quiet, conscientious ballerina desperate to portray the Swan Queen in her ballet company's production of Swan Lake. 
Despite being a talented technical dancer, director Thomas Leroy (Vincent Cassel) does not believe that she has the passion to play the part. 
Seeing her chance to take the lead slipping away, Nina does something completely out of character. She is then awarded the part of Swan Queen. 
However, this soon proves to be the darkest of mixed blessings. As she strives for perfection, Nina starts to spiral out of control and begins to lose her grip on reality.
Is It Any Good?
I don't really know what I was expecting when I sat down to watch Black Swan. But I didn't expect such a dark, intense and (at times) horrific film. 
Let's be clear from the start: this is not a film about ballet.
This is a film about struggle. It's a film about what happens when you work hard for something only to reach your goal and find that it is an illusion and not worth your sacrifice. It is about paranoia, self belief and self perception.
Black Swan is a film that may mess with your mind. It certainly did mine!
While not a film about ballet, Black Swan does, however, feature a lot of dancing. Natalie Portman is superb -  both as a ballerina and in her portrayal of such a complicated character. 
She portrays Nina's growing sense of paranoia beautifully and her descent into psychosis is both horrific and heartbreaking. 
We lose our hold on what is real along with Nina and become increasingly disorientated as the film progresses to its terrible conclusion.
Random Observations
I was alittle surprised that this film has a 15 rating. It certainly feels on the edge of an 18 at times.
I was, therefore, interested to read on the BBFC's website that the film presented it "with a whole range of classification issues when it was submitted for an advice viewing* in 2010".
The issues of concern for the BBFC included the parts of the film where we see Nina self-harming and taking drugs. However, the BBFC felt that both of these aspects were consistent with a 15 rating.
The major classification issue that the BBFC had with Black Swan concerned the sex scenes.
Indeed, the BBFC notes that "one scene in particular took Black Swan right to the 15 / 18 classification border." However, that scene was judged to be "carefully framed and visually discreet; it lacks aggravating strong detail". It was also an important scene within the film's narrative context. 
A special mention must go to Barbara Hershey who is amazing as Nina's mother. Her relationship with Nina really got to me. She treats Nina like a very small child and allows her no privacy at all. She lives for (and through) her daughter and also resents her. It is truly horrific and superbly played. 
*The BBFC offers an advice viewing service to the film industry, where distributors send in a work and are given an explanation of the likely age rating that work will receive.