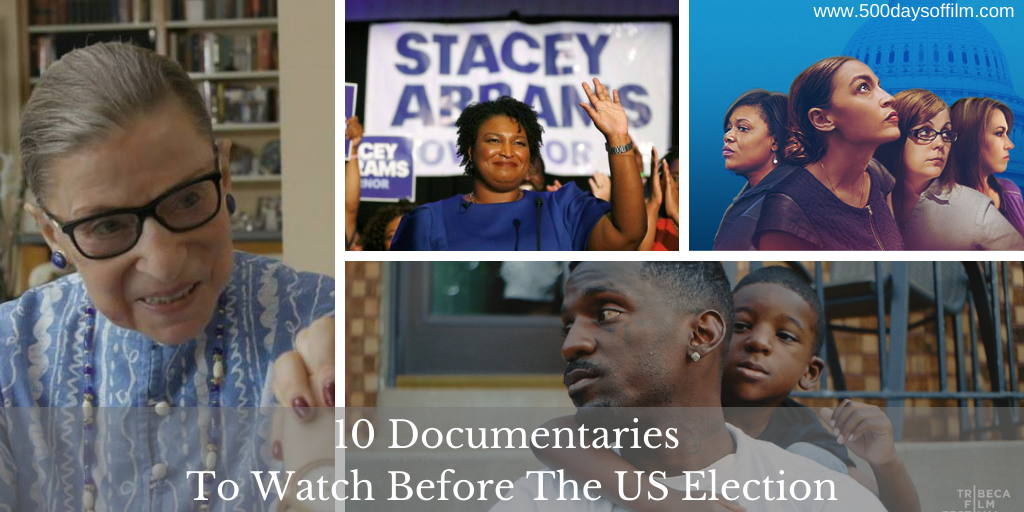 With only days to go until the 2020 US presidential election, I thought it might be a good time to revisit some of my favourite documentaries about American politics. Some celebrate inspirational figures, some tell disturbing and unsettling stories... all offer compelling insights.
All In: The Fight For Democracy
Liz Garbus and Lisa Cortés' powerful documentary warns US citizens of an insidious issue that has long corrupted their country's democracy - voter suppression. All In uses the story of Stacey Abrams, the former Minority Leader of the Georgia House of Representatives, as a recent, real world example of the dangers of such illicit and undemocratic activity. 
Abrams has an inspiring tale to tell and she is an inspiring figure. She was the US Democratic party's nominee in the 2018 Georgia gubernatorial election, becoming the country's first African-American female major-party gubernatorial nominee. She lost (albeit narrowly) to Brian Kemp in an election blighted by accusations that Kemp engaged in voter suppression. 
Her experience makes Abrams a perfect guide throughout All In. She is passionate, articulate and poised. "The fundamental power of democracy lies in our right to vote," she explains. "If you protect that right, you create possibilities for everything else."
RBG
The world is undoubtedly a poorer place without US Supreme Court Justice, Ruth Bader Ginsburg, but we are all richer as a result of her incredible and inspiring contribution. RBG, Betsy West and Julie Cohen's superb documentary about Ginsburg's life, charts her rise to America's highest court, her legal legacy and how she became an unexpected pop culture icon, the Notorious RBG.
When I first watched West and Cohen's film, I expected it to be fascinating and I expected it to be inspiring. However, I did not expect RBG to be quite so moving. In these troubling times, a film about a person of quiet (but no less powerful) persistence, consistency and steadfast belief is both refreshing and hugely motivating.
The world needed RBG and, to the very end, she did not let us down. The best way of honouring her legacy is to tell her story and continue her fight.
Knock Down The House
When tragedy struck her family in the midst of the financial crisis, Bronx-born Alexandria Ocasio-Cortez had to work double shifts in a restaurant to save her home from foreclosure. 
After losing a loved one to a preventable medical condition, Amy Vilela didn't know what to do with the anger she felt about America's broken health care system. 
Cori Bush was drawn into the streets when the police shooting of an unarmed black man brought protests and tanks into her neighbourhood. 
Paula Jean Swearengin was fed up with watching her friends and family suffer and die from the environmental effects of the coal industry.
At a moment of historic volatility in American politics, these four women decide to fight back, setting themselves on a journey that will change their lives and their country forever. Without political experience or corporate money, they build a movement of insurgent candidates challenging powerful incumbents in Congress.
The Final Year
Greg Barker's documentary, The Final Year, is a fascinating look behind the scenes of a governmental department desperate to leave a lasting, positive legacy. As the months tick down towards the end of their time in office, so the desire to finish what they have started grows stronger.
It is exhausting to watch as John Kerry and Samantha Power travel the globe negotiating deals, promoting diplomacy and raising awareness of disturbing world issues. You feel the toll this role has taken (personally as well as professionally) as their final year draws to a close. 
The light at the end of this, often dark and deeply upsetting, tunnel is the chance that, when they hand over to a new administration, they will have made a real difference in the world. A difference that can (under, they presume, the presidency of Hillary Clinton) be built on in the future.   
Of course, things didn't work out quite the way they planned…
Hilary
Hilary, the four part Hulu documentary series from director Nanette Burstein, explores the life, career and legacy of Hilary Clinton. 
Made with Clinton's cooperation and featuring fascinating interviews with her and many of the key players in her personal and professional life, Burstein's film puts Clinton's career into context - setting it against the backdrop of women's rights.
While often intimate and unafraid to explore Clinton's flaws and mistakes, Hilary does not offer any real surprises or 'gotcha' moments. The documentary is largely sympathetic - even when it is critical of Clinton's decisions. 
However, this is in no way a criticism of Burstein's series. Clinton has long, long since learned how to manage her narrative and, really, who could blame her? It is hard to think of a woman more closely scrutinised and, at times, more brutally vilified in the court of public opinion.
As a result, throughout the series, Burstein wrestles with the question of why Hilary Clinton is such a divisive character. Was she condemned for being a woman who dared to be different? Did she fail to understand what the people wanted from her? What exactly lies behind the distrust?
St Louis Superman
St Louis Superman tells the story of leading Ferguson activist and former St Louis, Missouri state representative, Bruce Franks Jr. His constituents call him Superman and he certainly lives up to the name - tirelessly working to build a safer future for the people in his community.
However, as Sami Khan and Smriti Mundhra's powerful and deeply moving documentary shows, this is often emotionally devastating and extremely challenging work. When Franks took office, St Louis had the highest murder rate in the US.
In response, Franks drafted a bill that defines youth violence as a public health epidemic. The film explains that the passing of this bill would lead to the provision of critical funding to address the causes of gun violence.
A charismatic and inspiring figure, you believe that Franks can achieve the change he so passionately seeks. It is incredibly impressive to watch as he manages the balance between political life and community activism.
The Brink
When Steve Bannon left his position as White House chief strategist less than a week after the Charlottesville "Unite the Right" rally in August 2017, he was already a notorious figure in Trump's inner circle, known for bringing a far-right ideology into the highest echelons of American politics. 
Unconstrained by an official post, Bannon became free to peddle influence as a perceived kingmaker, turning his controversial brand of nationalism into a global movement. The Brink follows Bannon through the 2018 US mid-term elections, shedding light on his efforts to mobilise and unify far-right parties in order to win seats in the May 2019 European Parliamentary elections. 
To maintain his power and influence, the former Goldman Sachs banker and media investor reinvents himself as the self-appointed leader of a global populist movement. A keen manipulator of the press and gifted self-promoter, Bannon continues to draw headlines and protests wherever he goes, feeding the powerful myth on which his survival relies.
The Fight
What does it take to sue the US Government? The Fight follows a team of American Civil Liberties Union (ACLU) lawyers as they aim to do just that - fighting against some of Donald Trump's most disturbing attacks on the country's civil rights. 
Of the many legal challenges against the Trump administration's plans (over 140 lawsuits to date), The Fight focuses on four key issues: the separation of immigrant families (many seeking asylum), the blocking of access to abortion, the expulsion of transgender soldiers and an insidious assault on voting rights.
Each one of these topics alone could fill a documentary, of course. However, the combination of all four creates a powerful cumulative effect. Directors Elyse Steinberg, Joshua Kriegman and Eli Despres portray a country whose civil liberties are being besieged on all sides - and reveal the overwhelming task that the ACLU faces.
It may be a cliché, but this really is a David and Goliath situation. The power and deep pockets of the US Government versus a relatively small team of lawyers. Lawyers who are, as a result, always on the go - often sacrificing time with their families. Lawyers who - no matter the task ahead - will never back down.
Kill Chain: The Cyber War on America's Elections
There is nothing like an emergency - be it local, national or global - to remind us that democracy is a precious and vulnerable thing. Now, more than ever, we need to choose leaders that we trust, leaders who will act in our best interests.
No democratic system is perfect, of course, and no political party is infallible. For this very reason, we have a powerful tool to use if we desire change - our vote. However, what happens if that tool is compromised? What happens if our vote is attacked?
Kill Chain: The Cyber War on America's Elections, a gripping HBO documentary from directors Simon Ardizzone, Russell Michaels and Sarah Teale, examines this disturbing issue and explores what we can do to protect global voting systems from being hacked.
The film's primary focus is on the situation in the US where voting is done via machines supplied by a small group of vendors. Despite assurances to the contrary, Kill Chain reveals that these machines are not secure from attacks - either by state approved hackers or "lone wolf" figures.
Our guide on this unsettling cyber journey is Harri Hursti, a Finnish election security expert. Early on in Kill Chain, he states that "once you understand how everything works, you understand how fragile everything is and how easy it is to lose it all."
Duly warned, we soon begin to understand his concerns - the security processes in many computerised voting systems are deeply, deeply flawed.
Weiner
With unprecedented access to Anthony Weiner, his family and his campaign team as they mount his New York City mayoral campaign, Weiner documents an impending political meltdown of epic proportions. 
The documentary begins by highlighting the unexpected comeback from the disgraced ex-congressman. However, events take a sharp turn when Weiner is forced to admit to new sexting allegations. 
The media soon descends - eager to tear him apart. Weiner tries desperately to move forward, but the unbearable pressure and crippling 24-hour news coverage halts his political aspirations dead in their tracks.