500 Days Of Film Reviews 2017's Best World Cinema Films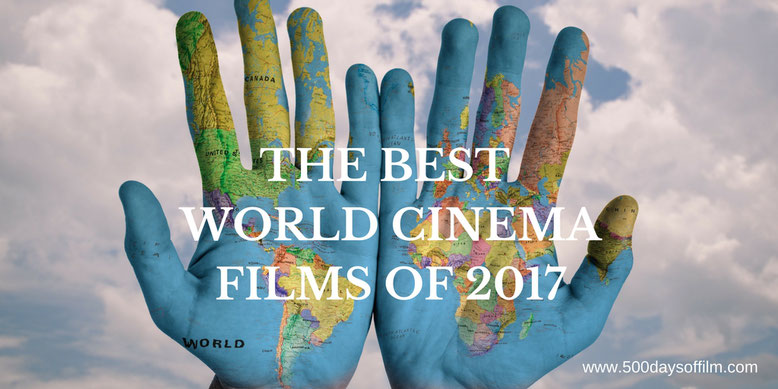 There have been a wealth of amazing stories told via world cinema movies this year. If ever there was a time to face your fear of subtitles this is it. Here are my top five favourites from 2017.  
5. Toni Erdmann
Synopsis: 
Winfried (Peter Simonischek) doesn't see much of his working daughter Ines (Sandra Hüller). Concerned that she is leading a joyless, corporate life he travels to Bucharest, where she's working as a consultant, to pay her a surprise visit.
However, his spontaneous decision doesn't help their relationship. Winfried is a practical joker and annoys his daughter with silly pranks and jokes about her lifestyle. Reaching an impasse, Winfried agrees to go home to Germany.
Enter Toni Erdmann - Winfried's flashy alter ego. Disguised in a cheap suit, crazy wig and fake teeth, Toni barrels into Ines' professional life, claiming to be her CEO's life coach. As Toni, Winfried doesn't hold back and Ines soon begins to meet the challenge - the harder they push, the closer they become.  
What I Said:
Exploring the state of Europe and its troubling class divide, Toni Erdmann satirises corporate life and highlights the challenges facing women in the workplace. However, at the film's heart lies a surprisingly melancholic and poignant tale of a father hiding behind humour and a daughter whose stubborn seriousness is holding her back.  
4. I Am Not A Witch
Synopsis: 
When nine-year-old Shula turns up alone and unannounced in a rural Zambian village, the locals are suspicious. A minor incident escalates to a full-blown witch trial, where she is found guilty and sentenced to life in a state-run witch camp. 
There, she is tethered to a long white ribbon and told that if she ever tries to run away, she will be transformed into a goat. As the days pass, Shula begins to settle into her new community, but a threat looms on the horizon. 
What I Said:
I am not a Witch is a remarkable feature debut from Rungano Nyoni. It feels like the work of a much more experienced filmmaker. Every scene is meticulously created - from the often stunning (almost mystical) visuals to the impressive and authentic soundscape. 
3. First They Killed My Father
Synopsis: 
Loung Ung was just five years old when Khmer Rouge soldiers stormed into her native city of Phnom Penh, Cambodia. Four years later, an estimated 1.7 million Cambodians had died - about a quarter of the population. 
Forced to leave her home, Loung and her family suffered unimaginable hardship and heartbreaking tragedy. However, Loung's strength and indomitable spirit enabled her to carry on through the violence and devastating loss. 
Driven by a fierce need to protect her family, Loung was also determined to tell her story so that what happened during those dark days in Cambodia could never be forgotten.  
What I Said:
Based on Loung Ung's memoir, First They Killed My Father; A Daughter of Cambodia Remembers, Angelina Jolie's film is at once a heartbreaking and disturbing story of genocide and also a beautiful portrait of Cambodia and its people.
2. The Handmaiden
Synopsis: 
During the Japanese colonization of Korea, young Korean woman, Sook-Hee (Tae-ri Kim), is hired to serve as a handmaiden to a Japanese lady called Hideko (Min-hee Kim) who is living with her uncle (Jin-woong Jo) in a grand, secluded house. 
However, Sook-Hee is secretly plotting with a conman - a man who calls himself Count Fujiwara (Jung-woo Ha) - in an attempt to defraud Hideko of her large inheritance. 
What I Said:
Amid the narrative shocks, Park Chan-Wook's film also features tender (often graphic) eroticism, surprising moments of humour and disturbing scenes full of twisted darkness. This is a sensual and sumptuous movie that grips from beginning to end. 
1. Heal The Living
Synopsis: 
It all starts at daybreak as three young surfers take to the seas. A few hours later, on the way home, a terrible accident occurs and 17 year old Simon (Gabin Verdet) is left hooked up to life-support machines in a hospital in Le Havre.
Meanwhile, in Paris, a woman awaits the organ transplant that will give her a new lease on life. 
What I Said:
Heal The Living is a stunning film about life and death, hope and loss. I loved it - even as it moved me to tears.
What Is Your Favourite 2017 World Cinema Film?
What do you think of my top five favourite world cinema films? What would you add? My honourable mentions would include Elle, A Man Called Ove and On Body And Soul.
What are yours? Let me know in the comments section below or via Facebook or Twitter (@500DaysOfFilm).