500 Days Of Film Reviews Pyewacket Starring Nicole Muñoz And Laurie Holden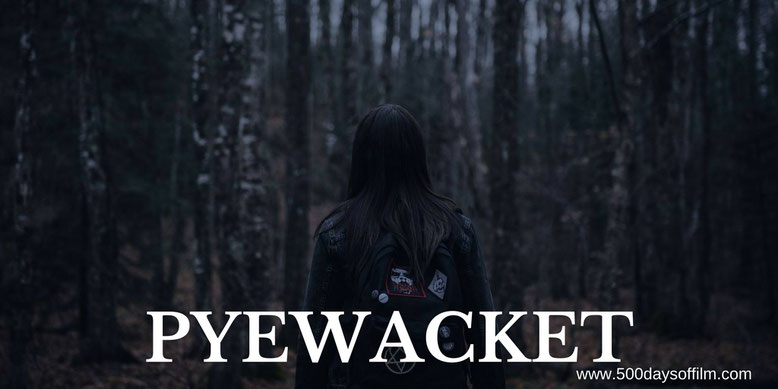 Teenager, Leah (Nicole Muñoz), finds solace from the recent death of her father - and from her strained relationship with her mother (Laurie Holden) - by dabbling in the dark arts. It all seems like harmless fun, until an argument leads Leah to do the unthinkable: put a death curse on her mother. 
No sooner has she performed the ritual, then she regrets it. However, it may be too late, as an evil presence known as Pyewacket begins to make itself known - threatening to destroy both mother and daughter.
Is It Any Good?
I regret not having watched Pyewacket at the cinema (it wasn't screened at any of my local movie houses). I would have loved to have seen this little horror gem on a big screen. However, scary movies are also pretty effective watched at home, alone and on a dark and stormy night. And this is just how I viewed Adam MacDonald's film.
Once the movie had ended, I stood outside (waiting for my dog to undertake her final ablutions) and found myself feeling distinctly unnerved - a rare occurrence for a desensitised horror nerd like me. 
Really, what more do you need to know? Praise surely has never reached such dizzy heights. However, in all seriousness, it is far from easy to make a film that leaves a horror fan with such an unsettling aftertaste. Many a movie has, of course, tried and sadly failed in this endeavour.
The secret to Pyewacket's chilling effectiveness lies in how MacDonald develops his mother/daughter relationship - brilliantly portrayed by Nicole Muñoz and Laurie Holden. This alone (with its echoes of Lady Bird) would have made a compelling film without the need for any supernatural elements. 
As a result, when the story moves into the realms of the occult, we genuinely care about both women and, as I always say, if you care you scare.
In addition, MacDonald really takes his time to create the tension inherent in his story - exploiting the disturbingly nuanced performances of both Muñoz and Holden to full effect. Suspense is built without the need for constant jumpscares (although there are still a few jumpy shocks here and there). 
Meanwhile, we are left disorientated by the way MacDonald moves his camera. There is a real sense of unnerving beauty in this movement - regardless of whether we are exploring Leah's high school or navigating the woods behind her house.
Of course, any witch and woods combo is bound to bring a certain found footage movie to mind. Indeed, MacDonald deliberately references the Blair Witch in scenes where Leah and her friend Janice (a suitably spooky performance from Chloe Rose) go witch hunting. 
However, Pyewacket has its own tale to tell and, while it does occasionally falter, this film certainly cast a spell on me. 
Random Observations
Have you seen Pyewacket? If you have, what did you think of this movie? Let me know in the comments section below or come find me on Twitter @500DaysOfFilm.