500 Days Of Film Reviews Documentary, Nothing Like A Dame, Starring Dame Eileen Atkins, Dame Judi Dench, Dame Joan Plowright And Dame Maggie Smith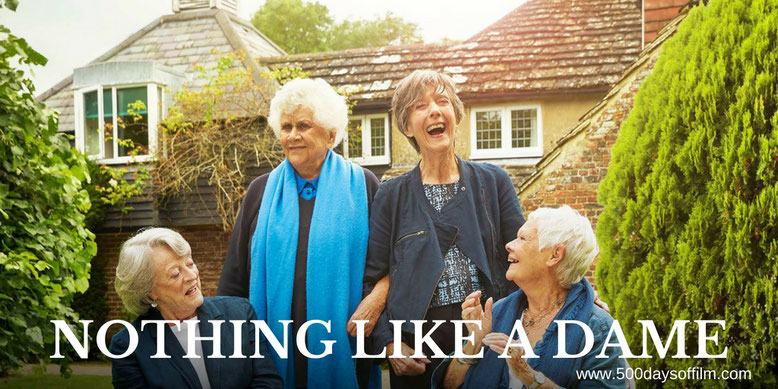 From time to time four old friends - the extraordinary actors Dame Eileen Atkins, Dame Judi Dench, Dame Joan Plowright and Dame Maggie Smith - meet up in the English countryside to gossip, to remember and to laugh. For once they let the cameras in…
Is It Any Good?
Roger Michell's charming documentary, Nothing Like A Dame, is a celebration of the lives and careers of four of our most iconic actors: Dame Eileen Atkins, Dame Judi Dench, Dame Joan Plowright and Dame Maggie Smith. 
All four women have gone from being fledgling actors in the 1950s to acting royalty. They've watched each other's careers grow and bloom and have celebrated life's ups and downs together. 
It is a pleasure and a privilege to spend time with these acting legends as they talk about their lives and their professional experiences across theatre, television and film. Many of their memories (accompanied by archive footage) give a fascinating insight into what it was like to forge a hugely successful acting career. 
Dame Eileen Atkins, Dame Judi Dench, Dame Joan Plowright and Dame Maggie Smith talk about their childhoods, their views on reading reviews, their thoughts on the role of Cleopatra, their regrets and their experiences of becoming a Dame. It is an absolute joy to listen to each in turn.
Nothing Like A Dame explores the strength and longevity of this friendship. The four women's recollections are intimate and often deeply moving. While they are largely all too aware of the camera, there are also moments when they let their guard down… and it is wonderful when they do.
Indeed, it is in these more candid scenes that the documentary works best. For example while talking about how people treat you differently as you get older, Dame Judi Dench shares a story that made me (literally) explode with laughter. 
Here in these moments, Michell uncovers the brilliant irreverence and wonderfully wicked sense of humour that underpins this very special relationship  - a friendship built on love, respect, and a whole lot of fun.
Random Observations
Have you seen Nothing Like A Dame?
If you have, what did you think of this documentary? Let me know in the comments section below or over on Twitter. You can find me @500DaysOfFilm.