500 Days Of Film Reviews God's Own Country Starring Josh O'Connor, Alec Secareanu, Gemma Jones And Ian Hart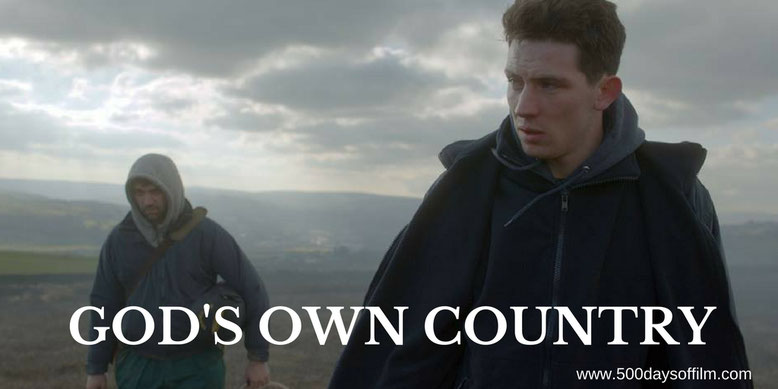 Johnny Saxby (Josh O'Connor) works long hours on his family's remote farm in the north of England. He numbs the daily frustration of his lonely existence with nightly binge-drinking at the local pub and casual sex. 
However, when a handsome Romanian migrant worker, Gheorghe Ionescu (Alec Secareanu), arrives to take up temporary work on the family farm, Johnny suddenly finds himself having to deal with emotions he has never felt before. As they begin working closely together during lambing season, an intense relationship starts to form which could change Johnny's life forever.
Is It Any Good?
I missed God's Own Country when it was released in UK cinemas and have been desperate to see this film ever since. As the weeks rolled by, so my anticipation and excitement grew. A potentially dangerous situation - could the movie live up to my high expectations? 
I really needn't have worried. God's Own Country is a stunning feature debut from writer, director Francis Lee. Don't get me wrong, I didn't like the wait… but, boy, was this film worth it.
Like Andrea Arnold's Wuthering Heights and Hope Dickson Leach's The Levelling, Lee's film has a remarkable and immersive sense of place. Watching, you can almost feel the mud under your fingernails.
Lee has created an authentic and deeply honest story - exploring both the challenges of running a farm (showing us just how brutal this life can be) and also examining the complicated relationships between his characters. 
At the start, Johnny (superbly portrayed by Josh O'Connor) is trapped in a life he doesn't want. Looking after the farm following his father's stroke, Johnny's future looks bleak and he seems destined for self destruction.
It is a relief, then, when Gheorghe arrives. Beautifully played by Alec Secareanu, Gheorghe teaches Johnny how to love. In tender and heartwarming scenes, Gheorghe also encourages Johnny to respect himself and love his land - God's own country.
Thanks to the superb craftsmanship of cinematographer, Joshua James Richards, God's Own Country is visually stunning. The movie features some truly breathtaking scenes of the Yorkshire countryside while also creating real intimacy in smaller spaces.
God's Own Country is a beautiful looking movie. However, its heart lies in the redemptive power of love - whether that be a romantic love, the love between a parent and child (Ian Hart gives a deeply moving performance) or the love between a grandparent and child (Gemma Jones is brilliant).
While these characters may not always be easy to like, by the end of the film I loved them all.
What struck me the most after watching God's Own Country was how layered Lee's film is and, yet, also how simple. At the core of this movie is a timeless love story - one that will move even the hardest of hearts. 
Random Observations
Have you seen God's Own Country? 
If you have, what did you think of Francis Lee's film? Let me know in the comments section below or via Facebook or Twitter (@500DaysOfFilm).