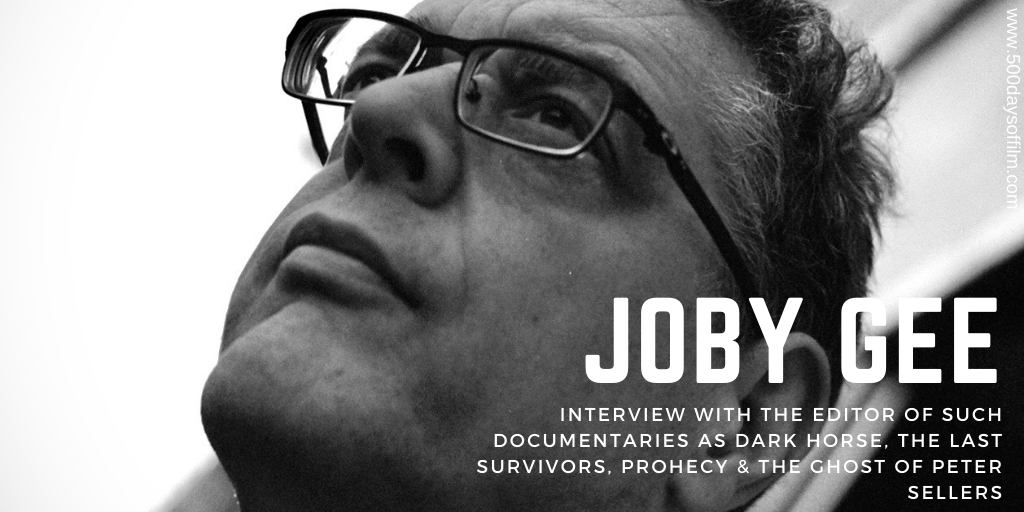 "The cutting room is the domain of the film editor, a man or woman barely known outside the film industry. He is often an introverted and cautious individual who may think of himself as a talented technocrat, a guardian of the tough, mechanical facts of cinematic technique; or as a behind the scenes power, like a president's brain truster, unsung but indispensable; or as a creative genius in his own right, a star whose light is blocked by the medieval movie protocol that gives directors and actors almost exclusive credit for a film's success. 
Whatever his self image, a key part of his job in the months he will spend absorbed in the seemingly endless footage will be to make his contribution as imperceptible as possible. No viewer should walk out of that film saying, 'I really dug the editing'."
Extract from Ralph Rosenblum and Robert Karen's book, When The Shooting Stops…
I first became aware of documentary film and television editor, Joby Gee, while watching Louise Osmond's charming and heartwarming documentary, Dark Horse. Set in a small Welsh mining village called Cefn Fforest, the film tells the story of a community that, in early 2000, decided to enter the sport of kings - the elite world of horse racing.
On my second watch of Dark Horse, I thought about why I loved this film so much. The story is, of course, fascinating and Osmond's direction is superb. However, I also realised that Gee's work - his cuts, the way he has arranged scenes - gives the film both humour and heart. In short, I really dug the editing.
My love for Dark Horse led to a telephone conversation with Joby Gee. I am not sure if he would recognise himself in Rosenblum and Karen's description - perhaps I should have asked. However, we did talk about his career, his editing process, his love of documentary film and what advice he would give someone looking to become a film editor.  
Gee's career started in a rather unusual way. His parents were both actors and, from an early age, he spent time within the entertainment industry. "My dad was in Dr Who and I remember going on set with him," he explains. "I had an early immersion into that world and I loved being entertained. I have always loved movies. Living in London, we had six or seven cinemas nearby and I would see films whenever I could. I remember seeing Apocalypse Now when I was around 12 years old."
After leaving school (with, he reveals, one O-Level), Gee was determined to do any job in the movie business. Editing was far from a deliberate choice. "I started as a runner at a television production company in 1984 - making tea and going on shoots," he says. "They were very nice to me and let me help. I ended up fiddling around in the editing rooms. Back then, editing equipment was very expensive and you were lucky to get your hands on it. I would go in on evenings and at weekends and fiddle around.
"I really enjoyed the magic that happens in the darkened editing room - something emerging out of nothing. I think that is what drew me to the job. It was also very social and a lot of fun. I worked my way up through the edit suites until, in the late 1980s, I became a freelance film editor."
Gee has worked in both cinema and television telling both fiction and non-fiction stories. However, his heart is in cinematic documentary film. "I have almost exclusively done non-fiction editing work although I have worked on a couple of movies, sitcoms and television dramas. I just never liked them as much as the 'real thing'," he explains. 
"I like weird, creepy, slightly less 'popular', slightly more left-field stuff. Those are the things I am drawn to," he says. "A lot of cinema documentaries are independently funded because they want to explore something peculiar. These stories may not be appealing to some people, but they appeal to me."
One such "peculiar" story is Peter Medak's The Ghost Of Peter Sellers. This brilliant, often hilarious documentary examines the making of Medak's 1973 pirate film, Ghost In The Noonday Sun. The film, written by Spike Milligan, became the fuel of nightmares when its star, Peter Sellers, began to sabotage the project. Despite Medak's best efforts, the show did not go on and the film was never released (however, you can now get a DVD copy on Amazon -  although Gee, who describes the film as "diabolical'', would not recommend it to anyone).
"I think this is the only documentary - or one of the few - where a director has made a film about his own film," says Gee who recalls that the project came out of the blue and remembers thinking that the story was "pretty weird".
The Ghost Of Peter Sellers begins with a moment of genius. Medak meets one of his "talking heads", a stuntman from Ghost In The Noonday Sun. However, the director is not happy with the reunion and suggests another take. We then watch as the pair meet once again. 
"We were struggling to find a way to start the film," Gee remembers. "Peter had filmed quite formal introductions with all the people he interviewed. I could never figure out how to use them. Then I thought, this is already a film about a film... why don't I make a film, about a film, about a film? I sent it off to the producer and he absolutely loved it and so we sent it off to Peter. He hated it. However, he then came around and ended up loving it."
It is a striking moment - funny, charming and human. It also pulls back the curtain on the filmmaking process. "We screened The Ghost Of Peter Sellers at Directors UK, the union for TV and film directors, and that moment got the biggest laugh because all the directors there knew exactly what that was," says Gee. "I think it works because it is silly - because it was both real and unreal and, as a result, it gets you into the film."
The Ghost Of Peter Sellers was a challenging film to edit. "We were only able to use 15 minutes of the original movie," Gee explains. "We also had some Super 8, but not much. I think we only had about 10 minutes of that footage. I then started trawling YouTube for Super 8 of Cyprus [where the original film was shot] in the 1970s and ended up editing some of that into the movie."
The saving grace of The Ghost Of Peter Sellers were the documents and photos that were discovered in storage. "We filmed this material a lot," says Gee. "My son is a graphic designer and we figured out how to bring some of this stuff to life in a slightly monty-python style. I wanted the documentary to feel a bit homemade because the film itself was a bit homemade. We filled a lot of gaps with this material. Without it, it would have been a struggle to make this film."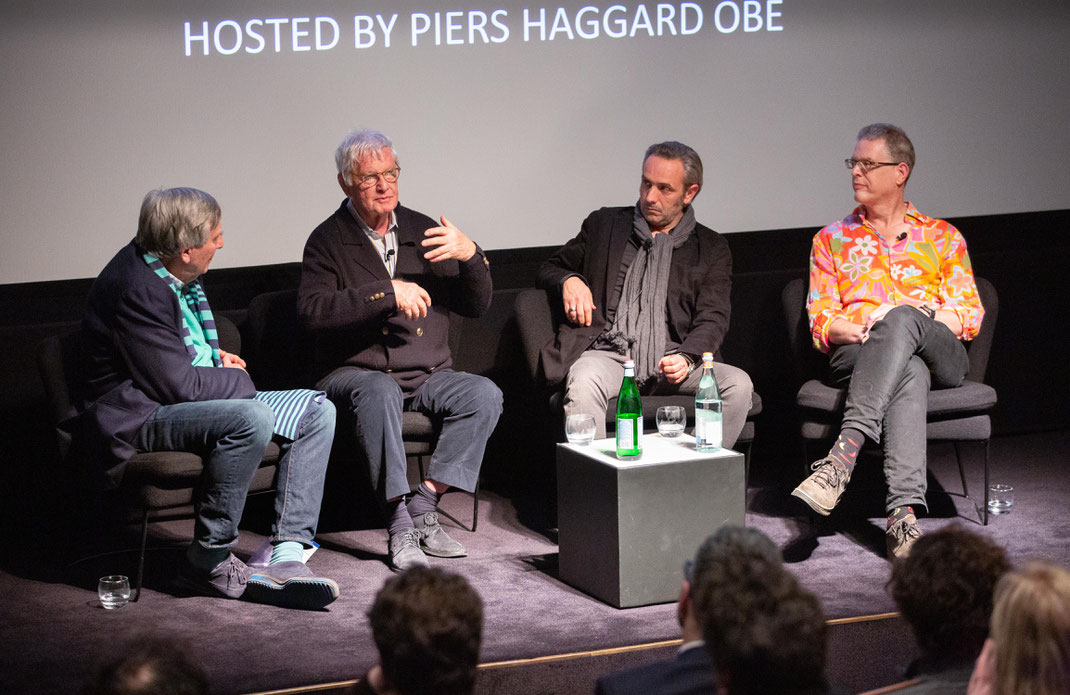 In addition to films telling charming, fascinating and "peculiar" stories (including the Channel 4 doc, Dogging Tales, that attracted two million viewers on its initial release and went viral on social media and Prophecy, a wonderful film examining the process of artist Peter Howson), Gee has also worked on documentaries about some of history's most devastating events. 
For example, in 2009, he received a BAFTA TV award for his work on The Fallen, a documentary about the grief and loss of the families and friends of those who have died fighting in Afghanistan and Iraq.
Gee has also edited two powerful films directed by Arthur Cary. The first, 2019's The Last Survivors, captures the experiences of some of the last survivors of the Holocaust. In overwhelmingly moving scenes, they reflect on their childhood experiences and how their lives have been impacted. 
"The brilliant thing about this job is that you get to meet amazing people and you hear their stories in person and via the rushes," says Gee. "You try to look after them and make them look and sound as good as you can because they deserve it."
The Last Survivors does not feature a musical score. This was an idea that Gee worked on with Cary. "You could imagine the music already," Gee explains. The result is incredibly impactful. Not having the music cues to tell you how to feel encourages a deeper engagement with the survivors on screen - their stories feel even more emotional as a result.  
"Joby is fantastic to work with, we've become good friends," Cary told me via email. "He is a brilliant editor and was a key component when I was planning The Last Survivors. I hadn't worked with him before but knew about him by reputation and I was looking for someone who wanted to approach the subject of the Holocaust differently - he bought into my idea to make the film largely in the present tense and led by actuality and we made a decsion to use no music the first time we spoke while I was still filming. 
"He's very creative, brilliantly versed in film language from watching drama and films most nights and is quietly very emotionally intelligent. He's quirky and irreverent by nature which is a good starting point when you are approaching a heavy subject like the Holocaust and 9/11."
Cary's forthcoming film, Surviving 9/11, also includes horrific footage and devastating stories. It cannot be easy working with such material. "At the beginning it is hard work," says Gee. "I have edited 9/11 films before [including Flight 93: The Flight That Fought Back] but not for a while. The footage of the towers coming down or of people jumping out of the buildings is incredibly traumatic."
However, Gee explains that he has to put these feelings aside. He has to do his job and work with the material at hand. Otherwise, of course, the film would not get made and stories such as those from the Holocaust and 9/11 may be forgotten.
It was fascinating talking to Gee about his work. As our conversation drew to an end, I asked him what advice he would give to someone thinking about a career in documentary film editing.
"My advice is watch everything. Not just documentaries, but everything. Documentaries today are cinematic and the technical differences between fiction and non-fiction cinema have almost vanished. Audiences expect a documentary to look and sound like a movie. They expect polish and sheen and sophistication. They expect stunning visuals, drone shots, beautiful music and high resolution photos. The lines have blurred."
"If you want to edit stuff, make sure you edit stuff," Gee adds. "Try to get hold of some rushes and work with those. Try removing the sound from a film and replacing it with other sound effects. Post-sync it yourself. There are thousands of fun things you can try." 
Gee does not advise going to university or film school. "I would try and get a job at a post production house after leaving school, which is what I did," he says. "Work in a machine room digitising rushes and making cups of tea. If you are half decent or better, you will get spotted and accelerated through the system. Be keen and be available -  and learn how to use AVID editing software."
I would like to thank Joby Gee for being so generous with his time. It was such a pleasure talking to him and I cannot wait to watch his future documentary film projects!