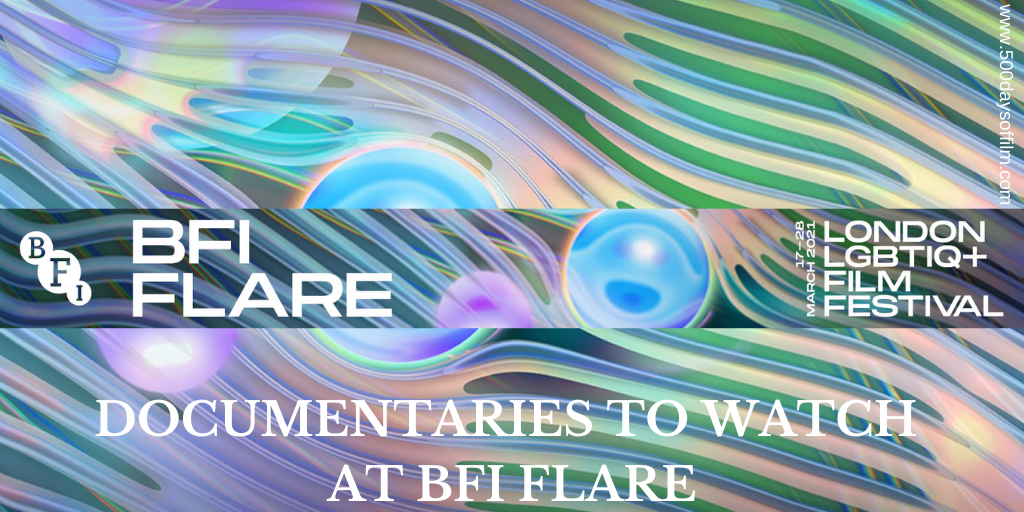 The 35th BFI Flare: London LGBTIQ+ Film Festival showcased the best new LGBTIQ+ cinema from around the world.
The festival's documentary selection was absolutely superb. I was lucky enough to watch nine doc features at BFI Flare and I loved every single one of these powerful and thought-provoking films.
The event was held virtually (for a second year - via the BFI Player platform to UK-wide audiences) and included 26 features and 38 free shorts from 23 countries. 
Let's take a look at BFI Flare's must-watch non-fiction films...
BFI Flare Documentary Features
BFI Flare was divided into three thematic strands:
Hearts - films about love, romance and friendship
Bodies - stories of sex, identity and transformation
Minds - reflections on art, politics and community.
Here are nine must-watch BFI Flare documentaries:
Rebel Dykes (Dir. Harri Shanahan, Sîan Williams) - Set in 1980s post-punk London, the film follows a tight-knit group of friends who met at Greenham Common peace camp and went on to become artists, performers, musicians and activists in London. 
Aids Diva: The Legend of Connie Norman (Dir. Dante Alencastre) - A portrait of Connie Norman, a local LA activist who worked tirelessly to make a difference in the struggle for AIDS victims and for trans rights.
Cured (Dir. Bennett Singer, Patrick Sammon) - Exploring the campaign by key US activists to remove homosexuality from the American Psychiatric Association's definition of mental illness.
Mama Gloria (Dir. Luchina Fisher) - The story of how fighter, organiser and survivor Gloria Allen became a local hero to younger Chicagoan trans women.
No Ordinary Man (Dir. Aisling Chin-Yee, Chase Joynt) - A documentary portrait of pioneering jazz musician Billy Tipton.
Colors Of Tobi (Dir. Alexa Bakony) - Following a family in Hungary on their journey to understand teenage gender dysphoria.
I Am Samuel (Dir. Pete Murimi) - The story of Kenyan couple, Samuel and Alex, who remain committed to each other despite the danger and hardship facing them in their country.
After its inclusion in BFI London Film Festival last year, I Am Samuel is now co-presented by BFI Flare on BFI Player and Human Rights Watch Film Festival (18-26 March) on Barbican Cinema On Demand.
Well Rounded (Dir. Shana Myara) - A celebration of body positivity, race, activism and queerness.
PS. Burn This Letter Please (Dir. Michael Seligman, Jennifer Tiexiera) - The story behind the 2014 discovery of a cache of letters written by 1950s New York drag queens.
BFI Flare Documentary Shorts
This year's BFI Flare Shorts programme was split across seven thematic selections: Beginnings and Endings, Heart's Desires, Into the Unknown, Queer as in Question Everything, Shapes We Make, Spaces We Take, Striving to Be Seen and For the Record.
For The Record is a selection of short form documentaries designed to provoke and inspire in equal measures. The films included:
Above the Troubled Water (Dir. Joe Cohen) – Three Nigerian men are scattered across the globe after escaping homophobic violence.
All I Need Is a Ball (Dir. Elena Molina) – Freestyle champion Palermo and her grassroots campaign to create a female league of freestylers in her native Spain.  
Being Sascha (Dir. Manuel Gübeli) – In this discerning mini-doc, Sascha beautifully articulates and illuminates life as a trans non-binary person in the small city of Basel.  
Son of Sodom (Dir. Theo Montoya) –  Selected for the 2020 Cannes Film Festival, this portrait of a beautiful, young, rebel queer explores his life in the bohemian circles of Medellin.  
Tracing Utopia (Dirs. Catarina de Sousa, Nick Tyson) – Young queers connect in a sci-fi dream world to build a war machine of love and a virtual manifesto for the future.