500 Days Of Film Reviews Assassination Nation Starring Odessa Young, Abra, Suki Waterhouse And Hari Nef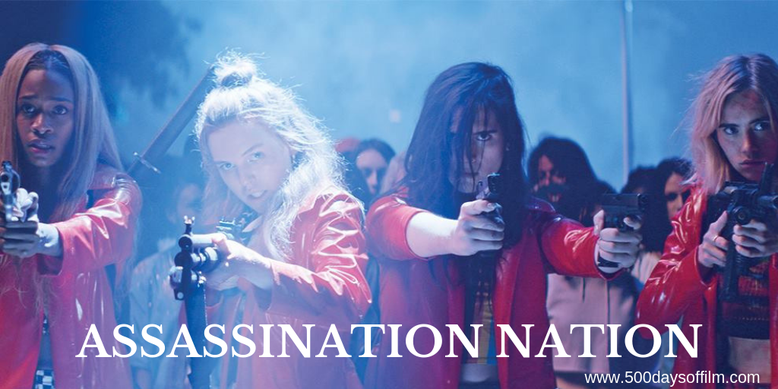 High school senior, Lily (Odessa Young), and her group of friends live in a haze of texts, posts, selfies and chats.. just like the rest of the world. So, when an anonymous hacker starts posting details from the private lives of everyone in their small town, the result is absolute madness leaving Lily and her friends questioning whether they'll live through the night.
Is It Any Good?
Assassination Nation is a confrontational and disturbing film. A movie that features many fantastical elements while, at the same time, always feeling just a little too close to reality for comfort.
Sam Levinson's film certainly has a lot to say. It explores social media, privacy, toxic masculinity, abuse, rape culture, mob culture, celebrity obsession, homophobia, sexism, sexualisation, pornography and hypocrisy. However, of all the movie's themes, it is the concept of shame (and victim shaming) that stands out the most.
Levinson started writing the script for Assassination Nation when he was preparing for the birth of his first child. "I was asking myself: 'What kind of world am I bringing this person into?'," the director explains. "I was thinking about how hard it is now to be young when every minor mistake you make is documented forever. Every awkward hookup, every bad photo, every intimate text exchange becomes ammunition for shame." 
Shame and loss of privacy lie behind much of Assassination Nation's building (and gripping) atmosphere of tension, dread and (often gory) horror. Levinson conveys the terrifying and suffocating digital world that has the potential to threaten young people's futures even before they have a chance to live.
Despite Assassination Nation's weighty and deeply unsettling "issues", the film also plays out as an entertaining and cine-literate horror thriller. There are many fun references to movies such as The Shining, John Carpenter's Halloween, The Purge, Friend Request and Japanese Sukeban films.
Meanwhile, I cared about all four of Assassination Nation's central group of friends - particularly Odessa Young's Lily and Hari Nef's Bex. I would have like more time with them. All are flawed but the film's core friendship is an oasis of humanity amid the chaos, selfishness and cruelty. 
As a result, I was really moved by their stories. As the film enters its final act, I was surprised by the feeling of empowerment that the film provoked. Brutally revelvant, challenging and uncompromising, Assassination Nation may not be for everyone, but I loved it.
Random Observations
Levinson uses costume, sound and colour to set the tone of his film - an assault on the senses with candy colours and split screens. While it feels rather overwhelming at first (and purposefully so), the score and cinematography are endlessly impressive. I particularly loved a stunning shot that takes place in a school gym.
Have you seen Assassination Nation?
If you have, what did you think of this film? Let me know in the comments section below or via Twitter. You can find me @500DaysOfFilm.