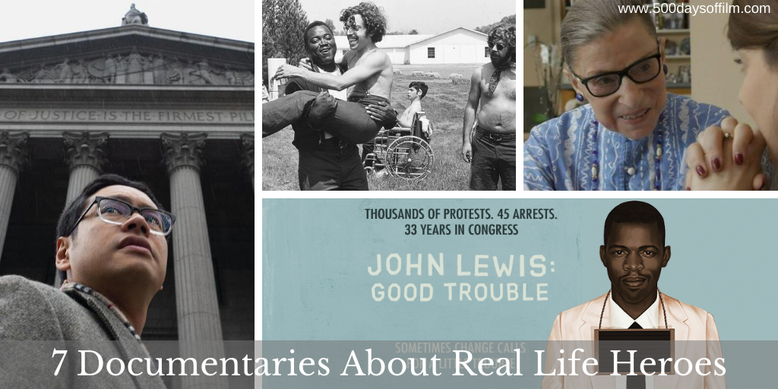 More times than I can count, I have found myself watching a documentary and feeling relieved that there are people out there willing and able to make this world a better place. They may not wear capes or possess other worldly powers, but they are all superheroes to me.
Here are seven of my favourite documentaries that showcase the incredible work of these phenomenal people.
The Fight
What does it take to sue the US Government? The Fight follows a team of American Civil Liberties Union (ACLU) lawyers as they aim to do just that - fighting against some of Donald Trump's most disturbing attacks on the country's civil rights. 
 Of the many legal challenges against the Trump administration's plans (over 140 lawsuits to date), The Fight focuses on four key issues: the separation of immigrant families (many seeking asylum), the blocking of access to abortion, the expulsion of transgender soldiers and an insidious assault on voting rights.
 Each one of these topics alone could fill a documentary, of course. However, the combination of all four creates a powerful cumulative effect. Directors Elyse Steinberg, Joshua Kriegman and Eli Despres portray a country whose civil liberties are being besieged on all sides - and reveal the overwhelming task that the ACLU faces.
 It may be a cliché, but this really is a David and Goliath situation. The power and deep pockets of the US Government versus a relatively small team of lawyers. Lawyers who are, as a result, always on the go - often sacrificing time with their families. Lawyers who - no matter the task ahead - will never back down.
Click here to read more about The Fight
Advocate
In Advocate, Rachel Leah Jones and Philippe Bellaiche's powerful and thought provoking documentary, we watch as Lea Tsemel -  a Jewish-Israeli lawyer who has represented political prisoners for five decades - defends what many Israelis believe is indefensible. 
Tsemel's clients include Palestinian men, women and (heartbreakingly) children - from feminists to fundamentalists, from nonviolent demonstrators to armed militants. Advocate follows her and her high profile caseload and also reflects on the landmark cases of her career to date.
Click here to read more about Advocate
Athlete A
Athlete A follows a group of incredibly talented, heroic and courageous athletes who, after suffering devastating abuse at USA Gymnastics (USAG), stood up, told their stories... and refused to be silenced. 
Bonni Cohen and Jon Shenk's powerful and inspiring film focuses on some of the hundreds of gymnasts who came forward. Athlete A also explores the role of the reporters at The Indianapolis Star who investigated the allegations and the work of Angela Povilaitis, the lawyer who held Olympic doctor and sex offender, Larry Nassar, to account.
Click here to read more about Athlete A
Crip Camp
In 1972, empowered after their experience at Camp Jened - a summer camp for the disabled in the Catskills, a few hours north of New York City - Judy Huemann and a group of other campers and camp counselors decided to campaign for the rights of disabled people. Huemann became the president of political organisation, Disabled in Action (DIA).
In powerful, moving and inspiring scenes, we see an ever growing group of people come together - via a series of protests and demonstrations - to demand fair treatment and access to the world. 
Click here to read more about Crip Camp.
RBG
When I first watched Betsy West and Julie Cohen's film, I expected it to be fascinating and I expected it to be inspiring. However, I did not expect RBG to be quite so moving. In these troubling times, a film about a person of quiet (but no less powerful) persistence, consistency and steadfast belief is both refreshing and hugely motivating.
The world needed Ruth Bader Ginsburg and, to the very end, she did not let us down. The best way of honouring her legacy is to tell her story and continue her fight. 
Click here to read more about RBG
John Lewis: Good Trouble
John Lewis: Good Trouble chronicles the life and career of the late John Lewis - the iconic civil rights activist and Democratic Representative from Georgia. Dawn Porter's timely and powerful film mixes stunning archive footage and fascinating interviews to explore the legacy of a man who spent over 60 years getting into good trouble over civil rights, voting rights, gun control, health-care reform and immigration.
Click here to read more about John Lewis: Good Trouble
For Sama
For Sama's mix of powerful journalism and intimate storytelling makes this film an unforgettable experience. The documentary examines a family's experience of war and follows a group of heroic people who chose to stay and help the citizens of Aleppo when the city was under siege.
Click here to read more about For Sama
Over To You...
What do you think of this list of documentaries about real life heroes? What films would you add?
Let me know in the comments section below or over on Twitter. You can find me @500DaysOfFilm.