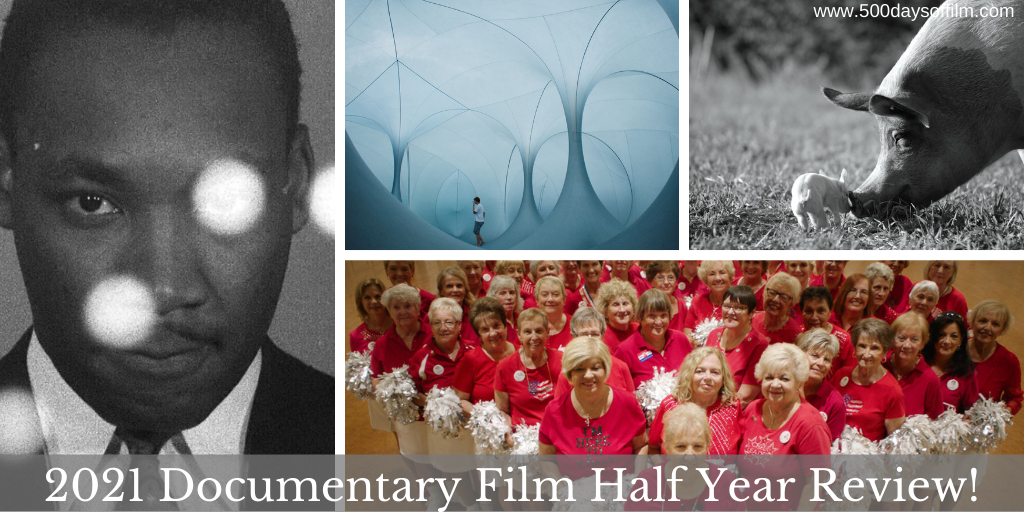 While time really has no meaning anymore (thanks pandemic) we have, somehow, made it to the halfway point of 2021. Like last year, documentaries have been my saving grace over the past six months. I may not have been able to get out and do much, but there has always been a powerful and compelling documentary to look forward to and enjoy.
As a result, I thought I would review the non-fiction cinema I have watched from the start of January to the end of June. These films are all UK releases - virtual and theatrical. Many apologies, I know there are gaps here (I will endeavour to catch up with those documentaries asap). 
I also review the documentary festivals that I have attended this year - their programmes are a good resource for docs to watch out for in the future!
My documentary year started with David Osit's brilliant film, Mayor, about Musa Hadid, the Palestinian city of Ramallah's Christian mayor. I am ashamed to admit that, before watching this documentary, I knew very little about the city. What I did know came from headlines and news reports about conflict, violence and division
Surrounded on all sides by Israeli settlements and soldiers, Ramallah faces many challenges. Most of its residents will never have the chance to travel more than a few miles outside their home. As a result, Mayor Hadid believes that it is his responsibility - and the role of local government - to enrich the lives of Ramallah's 35,000 residents. 
Hadid's passion for his city is both infectious and inspiring and Osit's portrait of Ramallah is stunning - this is a modern, bustling city. The odds may be stacked against him, but you wouldn't want to bet against Mayor Hadid. 
From Ramallah, my documentary journey took me to Bhutan - a Buddhist kingdom on the eastern edge of the Himalayas. In Thomas Balmès's documentary, Sing Me A Song, we discover that this nation was the last on earth to introduce television and the internet. 
The film follows a young monk called Peyangki. He lives and studies in a picturesque monastery in Laya - a village 4000 metres up in the mountains of Bhutan. Wonderfully captured by Balmès's camera, Laya is breathtakingly beautiful.
Although late to the online party, social media caught on quickly in Bhutan. In just five years, more than ten percent of the country had a Facebook account. The country experienced many benefits as a result. For example, a greater access to information led to criminal justice reform and an increased awareness of social and political issues.
However, Sing Me A Song is not interested in exploring the advantages of online technology. The documentary takes a rather bleak view of the introduction of the internet and television in Bhutan. Peyangki becomes increasingly distracted by the lure of his phone. Daily rituals of candle lighting and the recitation of prayers are now accompanied - and often lit - by a row of addictive little screens.  
January continued its impressive run with the release of MLK/FBI. Sam Pollard's gripping and comprehensive documentary examines the wide-ranging, stop at nothing surveillance campaign conducted by the FBI with the express aim of humiliating King in order to weaken his authority. 
Former FBI director, James Comey, describes this chapter as "the darkest part of the bureau's history". However, Pollard's film also reminds us that, at the time, King was the controversial figure not the FBI's director, J Edgar Hoover. The campaign was both widely known and widely supported.  
MLK/FBI argues that it is dangerous to forget these and other facts. To ignore the truth - to sanitise history for our own convenience - would do King and his many achievements a grave disservice. 
The anniversary of China's lockdown of Wuhan was marked in January by the release of 76 Days from directors Hao Wu, Weixi Chen and Anonymous (a local photo journalist in Wuhan who wishes to remain anonymous to protect his identity). 
This powerful film places us on the frontline with doctors and nurses in a hospital at the centre of the pandemic. From its opening seconds, 76 Days is a tough watch. A woman begs in vain to be allowed to say goodbye to her dying father. "I want to say goodbye for the last time," she cries as his body is taken away. 
These and many other moments in 76 Days would not feel out of place in a horror movie. Of course, in the days since January 2020, we have heard many similar stories and seen many similar images. 76 Days proves that they have lost none of their devastating power.
Meanwhile, Netflix released a powerful documentary in January about the shadowy origins and destructive impact of crack cocaine in America. With impressive pace and efficiency, Stanley Nelson's Crack: Cocaine, Corruption & Conspiracy puts all the pieces together to reveal the corruption and hypocrisy at the heart of this devastating story.
The first month of 2021 ended with Ryan White's brillant documentary, Assassins. The film tells the story of two young women - Siti Aisyah from Indonesia and Doan Thi Huong from Vietnam. In 2017, they assassinated Kim Jong-nam - the half-brother of North Korea's leader Kim Jong-un - in the Departures Hall of Malaysia's international airport.    
In full view of the airport's security cameras, Siti and Doan can be seen approaching Jong-nam from behind. Doan covers his eyes with her hands before both women run off. An hour later, Jong-nam was dead - killed following exposure to VX, the most lethal nerve gas on earth. 
The murder - and its blatant nature - stunned the world. However, this was only the beginning of a bizarre and increasingly disturbing story. 
February began with the brain scrambler that is A Glitch In The Matrix. I knew little about simulation theory before watching Rodney Ascher's film - apart, that is, from what the Wachowski sisters taught me in their 1999 sci-fi classic, The Matrix. As a result, I was fascinated to learn more about the various beliefs surrounding the idea that we are all living in a computer programmed reality.
Using a speech from prolific author, Philip K. Dick, and a variety of sci-fi movies (including several key moments from The Matrix itself), A Glitch In The Matrix dives into the science, philosophy and conspiracies behind simulation theory. We spend much of the film in the company of 'believers'. Their physical identities are masked by digital avatars - making their stories all the more startling. 
I loved hearing the arguments in support of simulation theory. Did you know that deja vu is actually a glitch in the matrix? Have you ever wondered if life's synchronicity is evidence of a simulation programming error? I actually haven't. However, it is fun thinking about this stuff - up to a point. Then it gets really rather disturbing…
February took its bow with IWOW: I Walk On Water. I had to check the running time of Khalik Allah's documentary twice. Three hours and 19 minutes. Really? This duration - the commitment Allah asks his audience to make - demands a change of mindset. This mesmerising and meditative film demands a willing investment of time and, on occasion, patience.
In IWOW, Allah focuses his lens on his long time muse Frenchie, a 60-something schizophrenic, homeless Haitian man. The director also turns the camera on himself. In intimate scenes, Allah documents his romantic relationship and explores universal themes of spirituality and mortality. Meanwhile, he gathers the thoughts of a series of confidants including Fab 5 Freddy, members of the Wu-Tang Clan and, in deeply moving conversations, his own mother. 
Allah blends these intimate interviews and poetic musings with atmospheric handheld footage - mainly filmed on the streets of Harlem, New York. The result is a deeply immersive journey, a stunning combination of sights and sounds, beautiful cinematography and a powerful score.
March kicked off with Notturno. Gianfranco Rosi's mesmerising and visually stunning documentary examines the impact of conflict. Shot over three­ years along the borders between Syria, Iraq, Kurdistan and Lebanon, this is a quiet collage of ordinary lives lived under the constant threat of war. 
Then came the release of The Dissident. Bryan Fogel's documentary explores the death, life and legacy of Jamal Khashoggi, the prominent Saudi Arabian journalist who, on 2nd October 2018, was murdered after visiting his country's consulate in Istanbul, Turkey.
There is little doubt about what happened to Jamal Khashoggi after he entered the Saudi Arabian consulate (to collect documents that would enable his marriage to Hatice Cengiz). His murder is described by Irfan Fidon, Istanbul's chief prosecutor, as not "unplanned".
Knowing how Khashoggi's life ended does not make the details of his murder any less shocking. Fogel examines the investigation by both outraged authorities in Turkey and the United Nations. The film includes devastating video footage and disturbing excerpts from surveillance recordings captured before, during and after Khashoggi's death.
Fogel keeps Khashoggi at the centre of this story. As much as The Dissident is framed as a true crime thriller (a device that is a little overdone at times), at its heart this is a moving story of loss - loss of a much admired and beloved man and the loss of a vitally important voice.
March also saw the release of Stray. I absolutely love Elizabeth Lo's stunning documentary, which follows three stray dogs -  Zeytin, Nazar and Kartal - on the streets of Istanbul and considers what their daily (and nightly) experiences reveal about humanity.
Without the need for exposition or narration, Lo creates an intimate portrait of the city. Stray also highlights some of society's most overlooked areas. A wife laments her loveless marriage, a street protest demands equality for women, young refugees exist without sanctuary.
Through these observations, Stray explores what it means to live - like Zeytin, Nazar and Kartal - without status or security. 
March concluded with Daniel Lindsay and T J Martin's documentary, Tina. Charting the life and phenomenal career of Tina Turner, the film encourages the iconic performer to tell her story one more time before leaving the stage with grace and love. "This documentary, this is it. A closure," explains Erwin Bach, Turner's husband and one of the film's executive producers. 
No one deserves a rest from the limelight more.
April brought us another wonderful documentary - Sisters With Transistors. Lisa Rovner's fascinating film tells the remarkable - and all too often unheard - story of the female trailblazers in electronic music.
Narrated by Laurie Anderson and featuring fascinating archive footage and interviews, Rovner takes us on a tour of the key female composers in electronic music. We are introduced to pioneering musicians such as Maryanne Amacher, Bebe Barron, Suzanne Ciani, Delia Derbyshire, Pauline Oliveros, Daphne Oram, Eliane Radigue, Clara Rockmore, and Laurie Spiegel.
We discover that early developments in electronic music were dismissed and viewed with distaste. Then, when electronic music was finally recognised, women composers were almost forgotten. Thankfully, Rovner's brilliant documentary sets the record straight.
If you, like me, love films about cinema and the business of making movies, you will love Amanda Ladd-Jones's charming documentary, Laddie: The Man Behind The Movies. A celebration of her father's incredible career and an exploration of their personal relationship, this film is a joy to watch.
What does the name Alan Ladd Jr mean to you? If you are unaware of his story (and, as the documentary makes clear, you are not alone), Ladd-Jones gets straight to the point. "He's been an agent, a producer, a studio head," she explains. Ladd Jr has over 150 Academy Award nominations and 50 Academy Award wins to his name.
He produced a staggering number of classic films including Alien, Blade Runner, Chariots Of Fire, The Omen, Thelma and Louise, Young Frankenstein and Gone Baby Gone. Ladd-Jones also tells us that her father had "the guts'' to make Star Wars - he said yes to George Lucas when no one else would. This, Ladd-Jones concludes, makes her father "the most influential movie executive you've never heard of". 
May brought one of my favourite documentaries of the year. A charming, poignant and insightful portrait of old age, Some Kind Of Heaven explores life at the largest retirement community in the US, The Villages in Florida. Lance Oppenheim's debut documentary feature is an absolute gem. Combining four wonderfully compelling stories with stunning, cinematic filmmaking, the film seeks to dispel "otherness" from old age.
Oppenheim unsettles us from the start. Some Kind Of Heaven opens with a montage of surreal clips -  footage taken from the many clubs (over 3,000 in fact) that are on offer at The Villages. As we watch synchronised golf cart driving, rowing and swimming, we start to wonder - are we being encouraged to laugh at the residents of The Villages?
Thankfully this is not the case. Oppenheim is not here to mock or make fools of his subjects. Far from it. He is genuinely fascinated by The Villages and why over 130,000 people have chosen to move away from their homes, from their friends and their families. 
I was lucky enough to talk to Lance about his career and his experience making Some Kind Of Heaven. You can read this interview here.
May also saw the release of Dror Moreh's The Human Factor. In his film, Moreh examines three decades of negotiations in the Israeli-Arab peace process from the perspective of the key American mediators involved. This is a conflict, Moreh reminds us, over "the same narrow strip of land in the Middle East" and is "the most enduring and violent in modern times, posing a major threat to world peace".
While the negotiators in the film all talk about their desire for peace and a good outcome for all sides (and they have, of course, dedicated their lives and careers to this ambition), they freely admit that mistakes were made. "It's a history of missed opportunities," says Martin Indyk. "It's a terrible tragedy."
Aaron Miller, who became the US State Department's top analyst for Lebanon and the Palestinians in 1980 and went on to become Deputy Special Middle East Coordinator, recalls hearing President Clinton conclude that trying and failing in the Middle East was much better than not trying at all. Miller remembers feeling inspired by this comment. 
In hindsight, he now believes that, while this is a fine slogan for a college football team, it is "no substitute for a foreign policy of the most consequential nation on earth". "Failure costs," Miller explains. "We saw the world the way we wanted it to be. We did not see the world the way it was." 
The month concluded with the release of Billie Eilish: The World's A Little Blurry. From Amy to Aretha, Judy to Nina, the world of documentary film is full of stories about musicians. Some of these films offer us a backstage pass. Many others deliver a carefully controlled, "on message" version of reality. And, really, who could blame anyone for wanting - after years in an often brutal spotlight - to keep their private life private?
This is what is so startling about R.J. Cutler's documentary. With incredible access, this is a wonderfully intimate and deeply personal portrait. Watching, it is hard not to feel amazed by Eilish's unapologetic insistence - despite her iconic status - to be vulnerable, to be human. This is not the story of a brand. This is the story of a person. A person who - despite attaining global stardom - is still a teenager dealing with many of the same things that any teenager faces.
June gave us the documentary gem that is Gunda. Viktor Kossakovsky's film is a moving and visually stunning cinematic experience. It observes the daily life of a mother sow (the eponymous Gunda), her piglets, two ingenious cows and a scene-stealing, one-legged chicken. Shot in black and white (with wonderful use of light and shadow) and featuring an incredibly immersive "natural" soundscape, this is one of the most powerful and impressive documentaries of the year.
I use the term "experience" deliberately as Gunda does not follow the traditional template of many non fiction films. There is no narration and no on screen text. There are no talking heads. There is only Kossakovsky's camera and the animals who wander in and out of the frame.
The piglets are, of course, adorable and in no time we are invested in their survival. They seem impossibly small and vulnerable next to their mother. Gunda's one legged chicken and collection of cows are, perhaps, a harder sell.  
However, there is magic in Kossakovsky's lens. By keeping his camera still and focused on these animals (often in startling close up) they transform in front of our eyes to become something far more than mere livestock - we begin to see them as individuals.
June also saw the release of a film certain to be in (at least) my top five documentaries of the year. In 2007, a 13 year old Japanese boy, Naoki Higashida, published his memoir. Called The Reason I Jump: One Boy's Voice From The Silence Of Autism, the book describes Higashida's experiences. 
Using Higashida's book as both narrator and guide, Jerry Rothwell's outstanding documentary, The Reason I Jump, examines the reality of autism and explores how it is perceived around the world. 
The brilliance of The Reason I Jump lies in how the film combines these intimate observations with stunning visuals (full of colour and light) and immersive sound. Challenging what we think we know, Rothwell's documentary gives us a wonderfully cinematic insight into autism. It opened my mind and stole my heart.
The month ended with Sing, Freetown. Clive Patterson's gripping and inspiring documentary follows journalist, Sorious Samura, on a journey from his home in London to the place where he was raised - Sierra Leone. Samura wants to go on an adventure and challenge the prevailing narrative about Sierra Leone - one that has primarily focused on war, corruption and disease. 
Samura is all too aware of his role in perpetuating this narrative. His documentaries (for CNN, Channel 4 and the BBC) have won two Emmy Awards and tackled the toughest issues in the region including civil war, starvation, AIDs, corruption and attitudes to homosexually.
In Sing, Freetown, we meet a man tired of this negativity and the damaging legacy of colonial rule. Samura decides to create a major new play to remind people of Sierra Leone's rich culture and history (it has been called the Athens of West Africa) and restore a sense of national pride. 
Documentary Film Festivals
The first half of 2021 also brought us a number of brilliant documentary festivals. The Sundance Film Festival took place in January. Over six days, 73 feature films and 50 short films were screened. 
The quality of the documentaries was incredibly high - making the task of choosing a winner at the festival's awards ceremony nigh on impossible. However, winners had to be selected of course and, during the ceremony hosted by actor and comedian Patton Oswalt, jurors (including Joshua Oppenheimer, Lana Wilson and Kim Longinotto) presented 24 prizes for feature filmmaking and seven for short films (click here to see all the winners). 
February brought us the BFI Flare LGBTQ+ Film Festival. The event was held virtually (for a second year - via the BFI Player platform) and included 26 features and 38 free shorts from 23 countries. 
The festival's documentary selection was absolutely superb. I was lucky enough to watch nine doc features at BFI Flare and I loved every single one of these powerful and thought-provoking films. Click here to read more about these documentaries.
With virtual events and a host of films from young women directors around the world, the first Global Girl Media Film Festival (GGMFF) took place in March. The festival's official selection of 36 short films (from 16 countries) were all directed by women up to 30 years old (the youngest an inspired eight-year old animator from the Ukraine). The films explore a range of thought-provoking subjects, including revenge porn and knife crime.
As a GGMFF juror, I was lucky enough to watch all of the festival's films. I was so impressed by the quality of entries. The young talent on display - both behind and in front of the camera - is incredibly inspiring. It was, as a result, difficult to choose my favourite director, documentary, fiction film and student film for the GGMFF Awards. Click here to read more about Global Girl Media Film Festival.
The 2021 Human Rights Watch Film Festival (HRWFF) also took place in March. The event featured ten powerful and uplifting documentaries. Each film was followed by a live, online discussion with filmmakers, film participants and Human Rights Watch researchers from around the world.
This year, the festival focused on trailblazing women, activists' resilience and resistance, education as an essential tool for change and a special spotlight on Latin America. Click here to read more about 2021's Human Rights Watch Film Festival.
June gave us the gift of Sheffield DocFest.
What a festival this was -  a hybrid of cinema-based and online documentary screenings and events featuring 55 world premieres, 22 international premieres and 15 European premieres. My only complaint? So many brilliant documentaries and I just didn't have enough time to watch them all!
I gave it a good shot though. Over the course of the festival - which ran from 4th-13th June - I watched 30 films (short and feature-length). These docs made me think and they made me laugh, they inspired me and moved me to tears, they shocked me and they made me want to dance.
I would highly recommend all of these films (click here for my review of DocFest 2021). There were, of course, many more brilliant documentaries that I didn't have time to watch (I will promise to try harder next time). It was a fantastic festival!