500 Days Of Film Reviews 1922 Starring Thomas Jane, Molly Parker And Dylan Schmid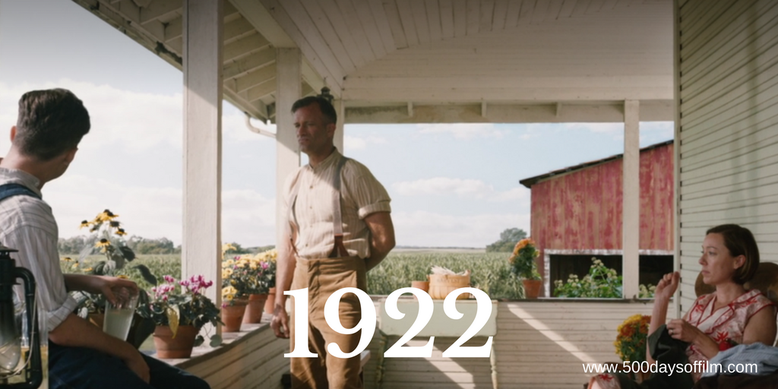 Wilfred James (Thomas Jane) is a proud and hardworking Nebraskan farmer struggling to make ends meet. Unhappily married to Arlette (Molly Parker), he is shocked by her plans to sell her share of the farm and move to the city with their teenage son, Henry (Dylan Schmid). 
Desperate, Wilfred comes up with a horrific plan - a way to keep his farm and his son. However, can he live with the consequences of his actions?
Is It Any Good?
When you think of Stephen King, you often think of terrifying stories filled with monsters such as Cujo, Jack Torrance or Pennywise the Dancing Clown. However, 1922 will keep you up at night for wholly different reasons.
Zak Hilditch's adaptation of King's novella (published in the book Full Dark, No Stars) is not interested in delivering scares in the traditional horror movie sense. This is a cautionary tale, a story that fills you with deeply unsettling dread.
A disturbing feeling that lingers long after the film has reached its horrifyingly bleak conclusion.
While I didn't quite buy Wilfred's manipulation of his son (Henry seemed a little too quick to participate), I was utterly hooked once the terrible plan had been put into action. At this point, thanks to a tremendously powerful performance from Jane, the film becomes a gripping exploration of guilt and regret.
Neither Wilfred nor Henry can live with what they have done and their lives spiral ever downwards (further and further towards madness) as a result. Hilditch uses a mixture of nightmares and hallucinations to convey the dark consequences that both men (but particularly Wilfred) have to face.
The movie is not overly gory but Hilditch is unafraid to get as nasty as his story demands - something I very much appreciated. Combine this with Ben Richardson's chilly cinematography (1922 feels cold even as the sun beats down on the farm) and Mike Patton's unnerving score and you have a remarkably tense film with scenes that are (rightfully) tough to watch.
1922 is another impressive Stephen King adaptation - one that disturbs rather than scares. However, I'll never look at rats in the same way again.
Random Observations
Thomas Jane's performance is extremely convincing and it is great to see him in another Stephen King adaptation (after The Mist). However, I did have some trouble understanding him. So much so, in fact, that I switched my subtitles on. I just didn't want to miss any of his dialogue.
Have you seen 1922? 
If you have, what did you think of this film? Let me know in the comments section below or let's discuss his movie over on Facebook or Twitter (@500DaysOfFilm).